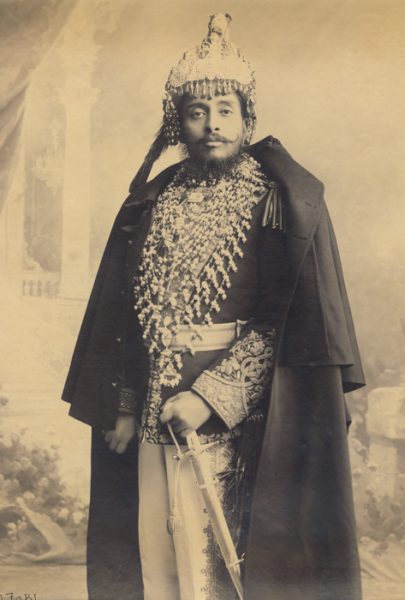 521
Enquiry about object: 521
Two framed original photographs: one of Maharaja Chandra Shumshere, Rana of Nepal, & one of a granddaughter
Nepal circa 1910
Maharaja Chandra Shumshere photograph: height: 27cm, width: 19cm (with frames: height: 43cm, width: 36cm); Granddaughter photograph: height: 28cm, width: 18cm (with frames: height: 45.5cm, width: 38cm)
These two original, gelatin silver prints by Herzog & Higgins (Central India) show a former Rana prime minister of Nepal and one of his granddaughters.
The reverse of the photograph of the granddaughter reads in handwritten black ink, 'daughter of Genl. Mohun Shum Sere Jung Bahadoor, eldest son of H.H. Maharaja Shum Sere Jung Bahadoor Rana GCB, GCMG, GCSI, GCVO DcL (Oxford)' and then 'aged 15 years + 10 months'.
Maharaja Chandra Shumshere became Maharaja and prime minister of Nepal in 1901 at the age of 38. He ruled for the next 29 years. He built the massive 1,400 room palace, the Singha Durbar, in Kathmandu to house the government.
He was succeeded as Maharaja and prime minister by several of his sons including Mohun whose daughter is shown in the accompanying photograph.
The position of prime minister of Nepal was hereditary and was passed down along the male members of the Rana family. The Ranas came to have more power than the kings of Nepal who were supplied by another Nepalese family. The Rana regime ended in 1951.
Both images show the posers with their elaborate court jewels. That of Maharaja Chandra Shumshere shows him wearing the spectacular Rana headgear known as a sirpech, which comprised a cap covered with diamonds, pearls, rubies and with a fringe of large suspended emeralds and plumes of the Bird of paradise.
The photographs are original and contemporary to the time. Both are in excellent condition. Both are framed.