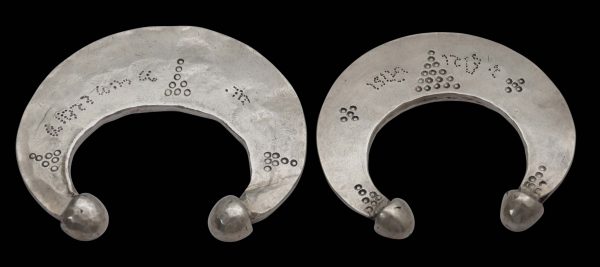 4956
Enquiry about object: 4956
Two Inscribed Indian Silver Bracelets
Gujarat, India circa 1900
width at widest point of larger example: 9.7cm, smaller example: 8.6cm, combined weight: 266g
Provenance
Collection of the late Paul Walter, New York, probably acquired in London.
This pair of crescent-shaped woman's bracelets is of heavy, thick hammered sheet silver. Each has a rounded, solid-silver, bud-like terminal.
Both are decorated with circular punch marks and each is inscribed with a Gujarati inscription – most probably the name of the owner. Such naming was important not for simply when the owner was alive but after the owner died to avoid disputes about inheritance in communal dwellings that housed an extended family.
It is sometimes said that such bracelets were worn by women for self defence – the outer edges can be sharp – but this might be apocryphal.
A similar example is illustrated in van Cutsem (2002, p. 204). Another is Hoek (2004, p. 137).
Each example is heavier in the hand than might be expected.
References
van Cutsem, A., A World of Bracelets: Africa, Asia, Oceania, America, Skira, 2002.
Hoek, C., et al, Ethnic Jewellery: From Africa, Asia and Pacific Islands, Pepin Press, 2004.