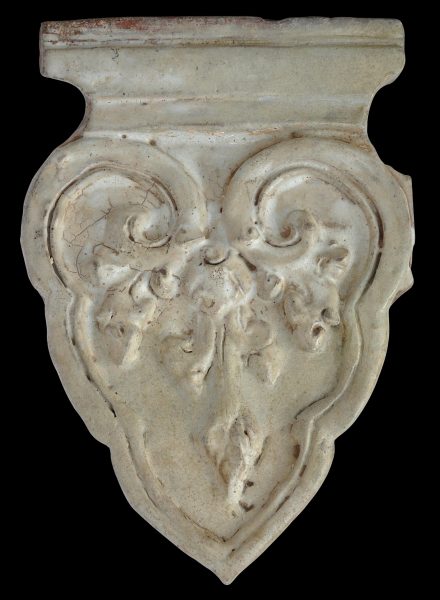 1578
Enquiry about object: 1578
Two Si Satchanalai Terracotta Tile Finials
Si Satchanalai, Thailand 14th-15th century
height: 21cm & 23.8cm; width: 16.5cm & 16.5cm
These two terracotta or stoneware tiles are for placement beneath the eaves of a building, most probably a temple, or as finials along a roof. Of pendant shaped, they are decorated with foliage motifs, giving them the appearance of fern fronds.
They have a pale-green hue achieved by achieved by a white slip (traces along the bottom of the tile) with a transparent glaze applied over it.
They were produced in the fifteenth century in the Si Satchanalai kilns, in what is today Thailand's Sukothai Province.
An almost identical example is illustrated in Miksic (2010, p. 15). Another is in Guy (1993, p. 140).
Click here to see a similar example in London's Victoria & Albert Museum.
They are in fine condition without cracks or chips. They are thickly potted and are able to stand upright without support for display purposes.
References
Brown, R., Southeast Asian Ceramics Museum, Bangkok University, Bangkok University press, 2009.
Guy, J., Thai Ceramics: The James and Elaine Connell Collection, Asian Art Museum of San Francisco/Oxford University Press, 1993.
pers. com. Dawn Rooney, Bangkok
Miksic,. J., (ed.), Southeast Asian Ceramics: New Light on Old Pottery, Southeast Asian Ceramics Society/NUS Museum, 2009.