– scroll down to see further images –
Nepalese ritual wine ewers based on Chinese 'Cadogan'-style porcelain wine ewers that are filled from the base are practically unknown. To the best of our knowledge, no similar examples have been published. These examples would have been used to offer wine to deity images.
Each of these ewers is of rounded egg form with an opening in the base and a tube rising internally from the base through which the ewer was filled. The ewer was then returned to its upright position and the contents would then be unable to spill or splash out.
The body of each is made of hammered sheet copper that has then been very finely hammered and etched with rocky hill or mountain motifs above which are etched swirling Sino-Himalayan foliage or cloud motifs. The two halves of the bodies have been joined and the join covered with a fine silver band etched with a Chinese-style key-fret pattern. Similar bands have been applied to the joins between the bodies and the feet.
The bases are embellished on both sides with applied open-work, gilded (gold-plated) lozenges of very finely-rendered multi-armed deities. Each deity is in a different pose. Three appear to be of Durga, and one other of Manjusri.
Each stands on a flared base but decorated with differing petal-like motifs. The reed-like 'S'-shaped spout of each rises from the mouth of a gilded long- snouted makara. The curved handles of each are decorated with gilded goddess figures amid swirling foliate backgrounds. (The handle of one has been applied more crudely than the other or perhaps came adrift and was reattached; the reattachment being almost contemporary with the piece.)
Alcohol, usually in the form of raksi brewed from kodo millet, as an offering features prominently in Nepalese rituals. Alcohol is produced at home for use by family members and to serve as offerings for household deities. At most religious and cultural and ritual functions in Nepal and in the Kathmandu Valley particularly, alcohol is the most coveted item to offer to deities, particularly Bhairava, and ancestors.
Cadogan teapots appeared in England during the early nineteenth century after Chinese porcelain wine pots were imported and then copied locally. The pots had a hole in the base with a tube running from it to near the inside top, and so could be filled through the bottom then turned the right way up without spilling. They were named after Lord Cadogan who supposedly used them in his home. (The final image below shows an example of such a porcelain ewer imported from China and now in the Bowes Museum in County Durham, northern England.  It is peach-shaped and with a blue ground. It dates to around 1800 and was made in Jingdezhen, China.)
These two ritual wine ewers have excellent patina. The copper has developed a rich, chocolate colour. The engraving work about their bodies is crisp and clear.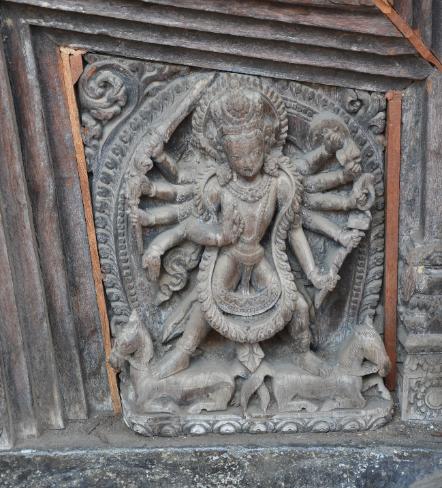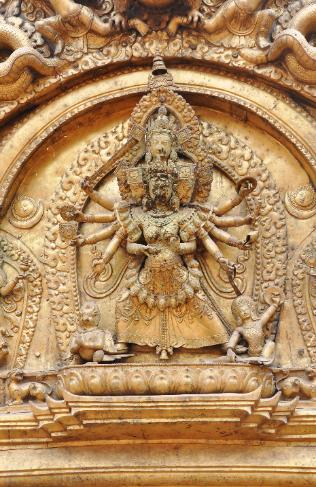 A carved wooden panel of Durga on a temple exterior, Patan, Kathmandu Valley. Detail of the gilded copper panelling over the entrance to Mulchok Court, Bhaktapur, Kathmandu Valley. Stylistically, this type of metalwork is mirrored in the ewers.
References
Macdonald, A.W. & A. Vergati Stahl, Newar Art, Aris & Phillips Ltd, 1979.