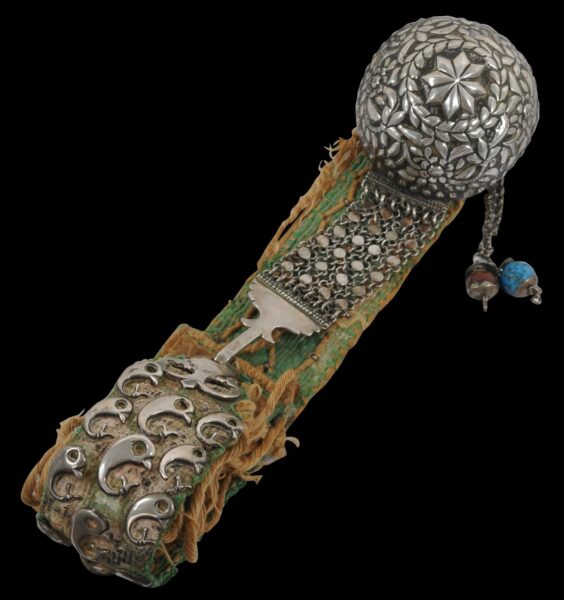 6581
Enquiry about object: 6581
Unusual Armenian or Kurdish Silver Belt
Armenian people, Armenia or Turkey; or Kurdish People, Turkey 19th century
overall length: approximately 86cm, diameter of buckle: 8.5cm, overall weight: 482g
This belt probably was intended for a man. It features a high-domed silver buckle chased with floral scrolls around a central, eight-pointed star, attached to a woven cloth green belt, the exterior of which is applied with dozens of stylised dolphin or fish-shaped silver plaques. Two silver chains are suspended from the domed buckle and then finish with a faceted carnelian bead and a turquoise bead, both with silver mounts. A silver mesh belt segment with a silver catch also is attached to the buckle.
The applied fish plaques are unusual. Undoubtedly, they were intended as a fertility symbol.
Such belts with domed buckles are found in the Caucasus, Armenia and Kurdish areas of Turkey and Iraq. They were worn by horsemen as an addition to their long tunics.
Examples of related belts with domed buckles are illustrated in Nadler (2005, p. 113) and Geoffroy-Schneiter (2011, p. 41), Leurquin (2004, p. 127).
The example here has obvious age. The cords that served as the belt's edging are now loose, and there is a broader frayed section. But overall, this is a highly unusual belt and buckle.
References
Geoffroy-Schneiter, B., Asian Jewellery: Ethnic Rings, Bracelets, Necklaces, Earrings, Belts, Head Ornaments, Skira, 2011.
Leurquin, A., A World of Belts: Africa, Asia, Oceania, America from the Ghysels Collection, Skira, 2004.
Nadler, D. & S., Silver: From Fetish to Fashion, PDN Publishing, 2005.