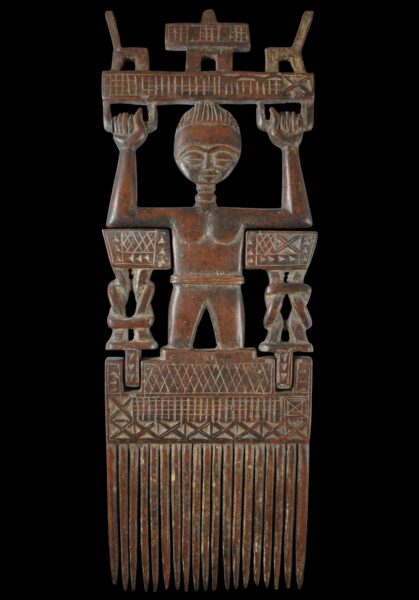 6811
Enquiry about object: 6811
Unusual Ashanti Carved Wooden Articulated Comb (Duafe)
Akan-Ashanti People, Ghana late 19th century-early 20th century
height: 34.7cm, width: 12cm, weight: 192g
Provenance
private collection, London.
This large and well carved wooden figural comb is from the Ashanti (Asante) people of Ghana. This comb, typical of many Ashanti combs, has been carved with complex meaning and symbolism which often draw on Ashanti proverbs and sayings. It is decorated as delicately on the back as on the front.
The example here is highly unusual because it includes an articulated mid-section which drops down when the comb is worn, to give the comb a more three-dimensional appearance. (We know of only one comb that was made with an articulated section to have been published – figure 81 in Cole & Ross (1977, p. 50) but the moveable section is now missing. This comb has similar motifs to our example though is less refined in terms of the quality of its carving.)
The comb has been carved with a female figure with a rounded face based on that of an akua'ba (fertility) doll. The figure's arms hold up a platform on which a table and two chairs have been carved. The chairs have the form used by Ashanti chiefs – low and with a sloping back.
Beneath the figure's arms are two knotted sections carved from wood which support another platform. This whole section pivots up and back on a discrete, fine, wooden dowel. The figure stands, with legs apart, on a wide border carved with geometric motifs.
The reef or square knot sections at either side relate to the proverb, 'If you are weaving and the thread gets tangled, you use both hands to untie it, an Ashanti proverb that means that even wise men need to seek help. An alternative view (Cole & Ross, 1977, p. 51) is that such knots (anyansapo) are 'wisdom knots' and that only a wise man can untie such a knot (anyansapo wode ndaberana nesiane).
Combs were ordered from carvers and given as gifts by admirers to women, or by a husband to his wife, often to mark special events, including at the initial marriage and wedding ceremony. They were used both as personal ornaments (Ashanti women often had high hairstyles that could have supported such a comb), and for utilitarian purposes. But many combs were kept by families for memento reasons because they were usually given as gifts.
The comb here is of unusual quality and craftsmanship and would have been produced for a woman of significant status.
A similar comb (but without an articulated section) was in the William H. Brill Collection and comprised lot 149 of Sotheby's New York 'The William H. Brill Collection of African Art' sale, November 17, 2006.
The comb has 19 teeth. It has a good, varying patina. Its contours have been softened and rounded by age and handling. It has obvious age.
References
Ashton, A., 6,000 Years of African Combs, The Fitzwilliam Museum, Cambridge, 2013.
Cole, H. M. & D. H. Ross, The Arts of Ghana, Regents of the University of California, 1977.
Falgayrettes-Leveau, C., et al, Ghana: Hier et Aujourd'hui/Yesterday and Today, Musee Dapper, 2003.
Grootaers, J. L. & I. Eisenburger, Forms of Wonderment: The History and Collections of the Afrika Museum, Berg en Dal, 2002.