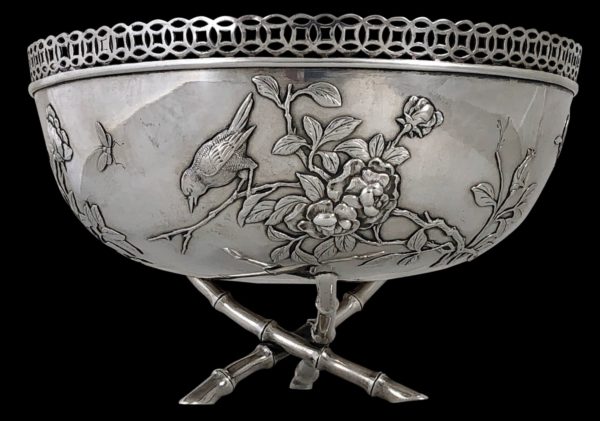 6235
Enquiry about object: 6235
Unusual & Fine Chinese Export Silver Bowl by Sunshing
Maker: Sunshing, Guangdong (Canton) & Hong Kong, China second half of the 19th century
height: 12cm, diameter: 18.5cm, weight: 516g
Provenance
private collection, UK
This exceptional Chinese export silver bowl by the maker Sunshing is both of good size and very unusual.
It stands on three crossed legs in the form of bamboo canes.
The bowl itself is decorated in applied silverwork with three sprays of peony blooms, birds and butterflies (symbolic of nuptial or marital happiness), against a polished rather than a tooled background.
The rim is highly unusual and is decorated with a superb and fine row of stylised Chinese 'cash' coins. These coins were used first in a unified China in the Qin Dynasty from around 221BC. They were round and had a square hole in the middle. Ever since, the motif of this type of coin has been used to symbolise wealth and prosperity. In the example of this bowl, the ring of interlocking coin motifs is likely meant to suggest a chain of endless prosperity.
The base of each foot is stamped variously with a Chinese ideogram, 'SS' and '90'.
Sunshing operated in the second half of the 19th century and is believed to have had outlets in both Guangdong (Canton) and Hong Kong.
The bowl is in excellent condition.
References
Chan, D.P.L., Chinese Export Silver: The Chan Collection, published in conjunction with the Asian Civilisations Museum, Singapore, 2005.
Forbes, H.A.C. et al, Chinese Export Silver 1785-1885, Museum of the American China Trade, 1975.
Marlowe, A.J., Chinese Export Silver, John Sparks, 1990.
Nikles van Osselt, E., Five Blessings: Coded Messages in Chinese Art, Foundation Baur/5 Continents, 2011.