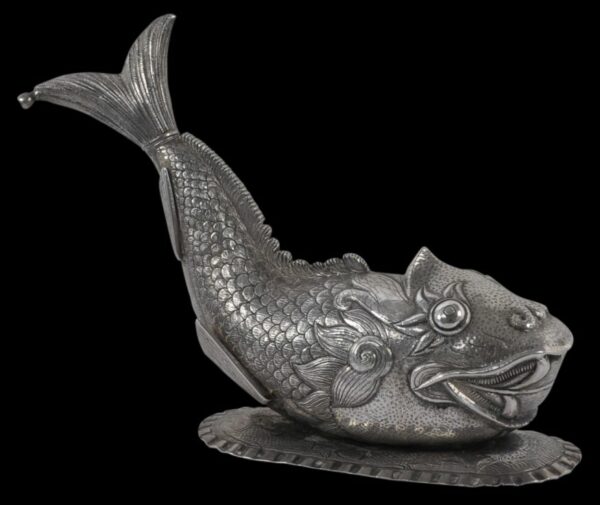 6724
Enquiry about object: 6724
Unusual Indian Silver Fish Rosewater Sprinkler
Northern India 19th century
length: approximately 23cm, height: 16.7cm, depth: 6.7cm, weight: 492g
Provenance
Collection of Julian Sands, UK/US.
This whimsical vessel in the shape of a fish is of chased silver and actually serves as a rosewater sprinkler.
The fish is fleshy, and chased with scales and extravagant fins and eyelashes. The mouth is open with what might be described as a smirk baring fangs and teeth. The eyes bulge and the nostrils are raised. The fish is fixed to a silver platform or plate that is engraved with waves and six fish motifs.
The lower part of the tail is fixed with a hollow round pierced sphere through which the rosewater is emitted. The tail screws off (clockwise in the traditional Indian manner rather than anti-clockwise) to allow the vessel to be filled.
The vessel is a fine example of silversmithing and is very much in the comical style preferred by some of India's maharajas and other traditional rulers in the second half of the nineteenth century, many of whom built large, showy palaces filled with follies and luxuries almost to compensate for the political power many no longer enjoyed under the colonial British.
The sprinkler is in an excellent condition. There are no maker's or assay marks.
References
Raulet, S., Maharajas' Palaces, Philip Rawson, 1996.
Terlinden, C., Mughal Silver Magnificence, Antalga, 1987.