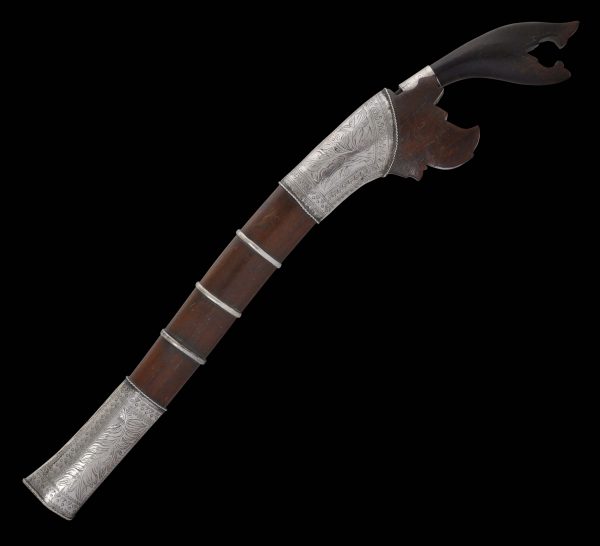 2510
Enquiry about object: 2510
Unusual Sewar Dagger with Wood & Silver Mounts
North Sumatra, Indonesia 19th century
length: 35.5cm
This unusal sewar dagger is from north Sumatra. The chape and upper part of the wooden scabbard are encased in silver sheet that has been engraved with plant motifs within geometric borders. The wooden scabbard is further decorated with three plain bands of silver. The hilt or handle is of wood and is in a bifurcate, zoomorphic shape. There is a silver hilt ring that is engraved with plant motifs. Unusually, the hand guard is cut away at the top to expose the silver hilt ring once the knife is in the sheaf.  Sewars were intended as stabbing weapons. And the knife here is long, thin and single-edged – ideal for stabbing.
This example is in excellent condition. There are no losses or repairs. It has a fine patina.
References
Gardner, G.B., Keris and other Malay Weapons, Orchid Press, 2009 (reprint of 1936 original).