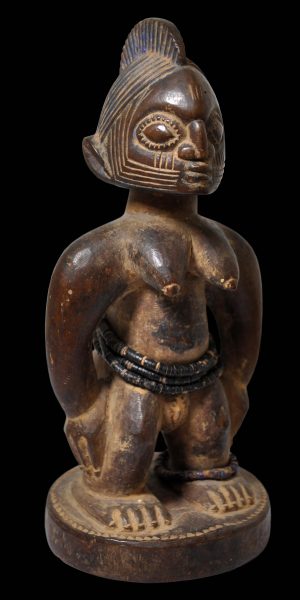 4806
Enquiry about object: 4806
Unusual Yoruba Ibeji Figure (Ere Ibeji)
Yagba Tribe, Egbe Region, Nigeria late 19th century
height: 23.5cm; weight: 398g
Provenance
Volta Place Gallery, Washington DC; Pendarell (Pen) Kent Collection.
This female Ere Ibeji figure is carved from a single piece of light wood. Its form is unusual – the plump and curvy features with especially thick arms and chunky short legs.
The image stands with  hands on hips. It has large hands with strong fingers, and big feet with strong toes.
The facial details are unusual too – with much bold and prominent incised scarification, a combination of vertical scarification (pélé) and horizontal scarification (àbàjà). The eye lashes around the almond-shaped eyes are visually attractive. The raised single-crested coiffure is a traditional bridal head-dressing called irun agogo, which is commonly related to marriage.
The image retains remnants of Rickett's Blue colouring.
Ere Ibeji figures represent dead infant twins. However, rather than as the deceased infants, they are usually represented by mature adult features, such as fully developed breasts and a prominent pubic area. In this case, the carver carved her with mango-shaped pointy breasts, and exposing her pubic area with a highly stylised and suggestive genitalia. Her buttocks are prominent.
Remnants of tukula powder can be found in its crevices. Tukula powder is applied to protect the image from insect damage and also out of a belief that it had healing or magical properties. There is a crack that runs from the bottom of her buttocks to her neck. The crack is stable and old. The figure has three strands of blackened coconut disks around her waist and also a strand of multi-coloured glass beads around her left ankle.
Yoruba people have the highest dizygotic (non-identical) twinning rate in the world. The births of twins amongst Yoruba women are four times more likely than anywhere else in the world. Unfortunately, the mortality rate of the twins also is very high. Ere Ibeji figures were carved as spiritual representations of the twins who died. (Ere Ibeji is a combination of Yoruba words: ere 'sacred image', ibi 'born' and eji 'two'). These figures were commissioned from village carvers, who were also often highly trained priests (Babalawo). They were usually placed on a shrine dedicated to Elegba (a divine messenger deity) in the living area of the house and fed, bathed and dressed regularly. They were particularly special to the mother, who kept them close to her and caressed the figures in a loving manner, hence the wear that genuinely old examples exhibit.
The figure here has a fine patina and colouring from age.
References
Bacquart, J. B., The Tribal Arts of Africa, Thames & Hudson, 1998.
Fagg, W. and J. Pemberton, J., Yoruba: Sculpture of West Africa, Collins, 1982.
Rowland, A., H.J. Drewal, and J. Pemberton, Yoruba: Art and Aesthetics, Museum Rietberg, Zurich, 1991.