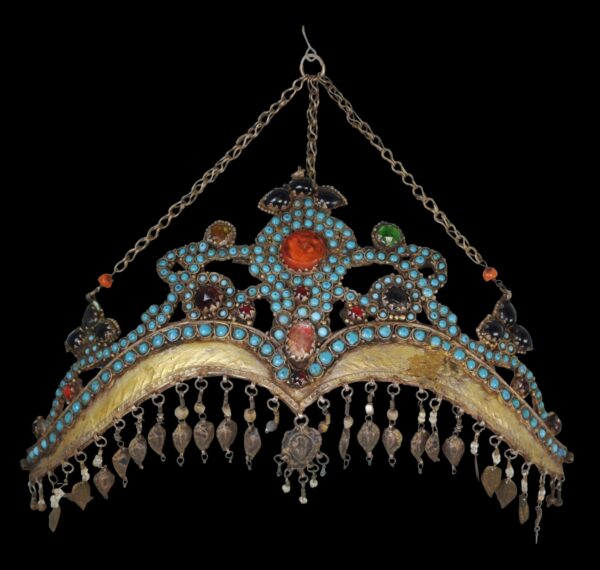 6129
Enquiry about object: 6129
Uzbek Silver-Gilt Bridal Crown (Kosh-e-tilla)
Bukhara, Uzbekistan late 19th century
width: 18.8cm, height: 11.6cm, weight: 61g
Provenance
private collection, UK.
This gilded silver headdress was worn as a bridal diadem in the Bukhara region in what is now Uzbekistan. It was worn suspended from a bonnet worn over the head. Its basic shape follows the line of the eyebrows.
It is set with dozens of small turquoise cabochons in box settings, as well as foil-backed faceted glass. A fringe of mother-of- pearl beads and silver seed-shaped pendant dangles is suspended form the base. The seed shapes are to evoke fertility.
Silver chains attached to the top of the diadem include three coral beads. The chains are to allow the diadem to be attached to the bride's head gear.
See Kalter (1997, p. 284) for a related example. Uzbekistan was a major centre for jewellery production in Central Asia, and Kalter says that by the early 20th century as many as 400 jewellery workshops were operating in the city.
The diadem has very clear age. There is a minor split in the gilded silver foil to the front of the diadem, but otherwise all else seems present and stable.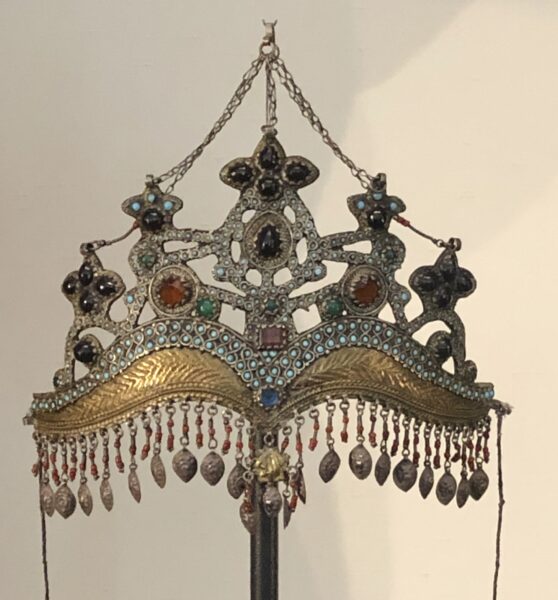 An example on display in the Islamic Galleries of the British Museum.
See more images below.
References
Hoek, C., et al, Ethnic Jewellery: From Africa, Asia and Pacific Islands, Pepin Press, 2004.
Kalter, J. (ed.), Uzbekistan: Heirs to the Silk Road, Thames & Hudson, 1997.