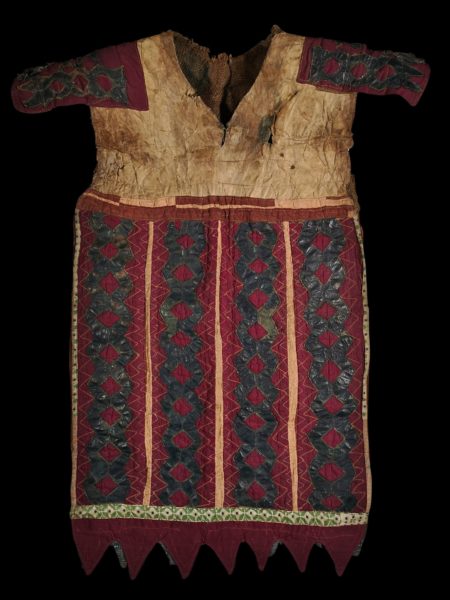 6492
Enquiry about object: 6492
Very Rare & Early Yoruba Shango Priest's Costume with Leather & Mirrors
Yoruba People, Nigeria circa 1850
length: 96.5cm, width: 54.5cm (approximately)
Provenance
found in the attic of a house in northern England where it is believed to have been stored undisturbed since at least the 1930s.
This splendid and well preserved tunic most probably was worn by a Shango priest who was in charge of rituals associated with the Shango deity and in charge of shrines devoted to Shango.
The cult of Shango, the Yoruba deity associated with thunder, is an important part of traditional Yoruba spiritual tradition.
The double-sided tunic is of deep-red cotton cloth over-sewn with goat-leather panels in columns of  double zig-zags and yellow cotton also in zig-zags.
The top panels are of unembellished goat leather, with shoulder pads on either side. These are of red textile over-sewn with more green leather zig-zag panels. Each shoulder has a glass mirror insert. Traditionally, red dye was obtained from bulrush millet and green was from copper and lime juice. Red is a colour that signifies danger and the destructive rage of Shango in his role as the thunderstorm deity.
The tunic is trimmed with printed cotton cloth most probably imported from Manchester. The interior is lined with hessian.
All the stitching is by hand.
Zig-zag patterns evoke lightning and thunder (Richer & Joubert, 2018, p. 148).
Shango was the fourth king of the ancient Oyo Empire, according to oral tradition (the city of Oyo was the old capital). He defeated the rivalrous Dahomey Kingdom. His army was famed for its skilful cavalry on the battlefield. However, Shango was also renowned for his unpredictable use of power, and his obsession with magic which often involved invoking thunder. He reigned for only seven years. His capital city Oyo-Ile and the royal family were destroyed by severe thunderstorms, apparently brought by his misuse of magical powers! He was devastated by the destruction of his family and his consequent humiliation by his chiefs. He left Oyo and committed suicide in Koso. However, thunderstorms continued to strike the Oyo Empire after his death. His chiefs built shrines and deified Shango to appease the thunderstorms. The shrines were richly adorned with carved wooden effigies.
A festival for Shango was held once a year. During the Shango festival, devotees would dance in the streets to the thunderous rhythms of bata drums. Devotees would dance with dance wands that were waved vigorously with violent and threatening gestures to imitate the dangerous powers of Shango: unpredictable, violent, and creative and destructive – all at the same time. The Shango ritual would reach a climax when one of the devotees became possessed by Shango himself.
The costume was found in the attic of a house in northern England where it is believed to have been stored undisturbed since at least the 1930s. The style, provenance and patina of the tunic suggest a dating of circa 1850.
It is in a very good, stable condition. There are minor holes to the upper leather sections but these are relatively insignificant given the age and the rarity of the costume. Overall, the costume has a wonderful patina and an aura of substantial age and wear from ritual use.
References
Beier, U., The Story of Sacred Wood Carvings from One Small Yoruba Town, Nigeria Magazine – Nigerian Printing and Publishing Company Ltd, 1957.
Drewel, H.J. & J. Pemberton III, Yoruba: Nine Centuries of African Art and Thought, Harry N. Abrams, 1989.
Homberger, L. (eds.), Yoruba: Art and Aesthetics, Museum Rietberg Zurich, 1991.
Lawal, B., Yoruba, 5 Continents, 2012.
Pole, L., Iwa L'Ewa: Yoruba and Benin Collections in the Royal Albert Memorial Museum, Exeter, Exeter City Museums, 1999.
Richer, X., & H. Joubert, Dance with Shango: God of Thunder, Somogy Editions, 2018.