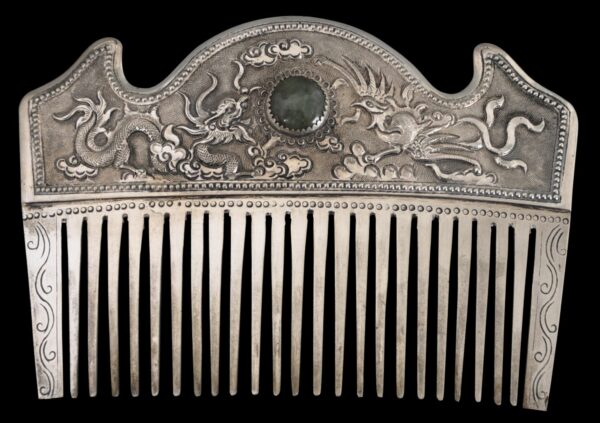 8623
Enquiry about object: 8623
Vietnamese Double-sided Silver & Jade Comb
Southern Vietnam early 20th century
length: 7.1cm, width: 10.3cm, weight: 43g
This silver comb is comprised entirely of silver other than for a round jade cabochon secured in a box setting to the front of the comb. Such combs were worn by well-to-do women in southern Vietnam.
The comb is chased on both sides with a dragon and a phoenix. On the reverse, the phoenix and dragon are separated by a long-life motif.
The use of the dragon and phoenix imagery on the comb suggests that it was used in association with marriage – perhaps it was a marriage gift.
A similar example is illustrated in Richter (2000, p. 132).
The example here is in excellent condition.
References
Richter, A., The Jewelry of Southeast Asia, Thames & Hudson, 2000.