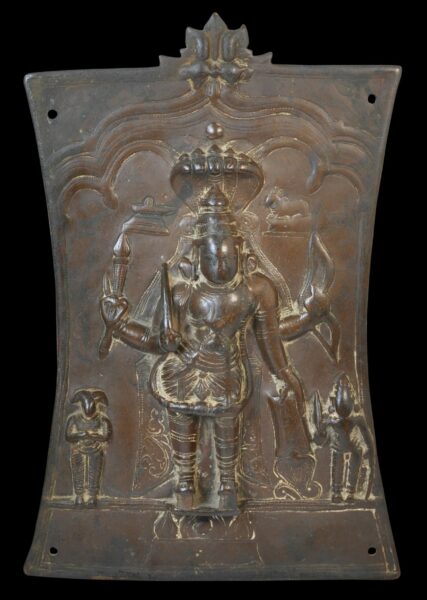 8575
Enquiry about object: 8575
Virabhadra Bronze Devotional Plaque
Karnataka, India 18th century
height: 27cm, width: 18.2cm, weight: 1,159g
This fine plaque of the god Virabhadra has been cast, chased and engraved. It is of rectangular form, with concave sides and shows the deity and his attendants in high relief.
A handle has been fitted to the reverse. This is relatively rare and signals that this particular plaque most probably was not intended for a home altar but perhaps for a temple – the handle was held by a temple Brahmin to hold the plaque so that it could be ritually presented to devotees. The plaque would be moved in a clockwise motion and then presented more closely to worshippers for them to feel the divine energy radiate from the plaque (Albanese & Freschi, 2022).
Virabhadra is shown in this plaque standing in classical tribhanga pose, with four arms in which he holds a sword, a shield, a mace and a bow. He stands beneath a five-headed cobra, and beneath an arch topped with a kurtimukha mask finial.
Daksha, whose human head was replaced with a ram's head, stands on Virabhadra's right, his hands in anjali mudra.
The figure to Virabhadra's left is Bhadrakali, Virabhadra's consort.
A nandi and a lingham are shown adjacent to Virabhadra's head.
Virabhadra's clothing and ornaments are shown in some detail. The deity is shown standing on unusually high wooden paduka shoes.
Virabhadra, an incarnation of Shiva, was created after Shiva's wife, Sati, was not invited to a great sacrifice given by her father Daksha. Sati, being greatly humiliated, went to the banquet and threw herself on the sacrificial fire. When Shiva heard of his wife's death, he tore a hair from his head and threw it to the ground. Virabhadra, a great hero-warrior, arose from this hair. He cut off Daksha's head in his rage and hurled it into the sacrificial fire. After the other gods calmed Shiva down, Daksha's head was replaced by that of a goat or in this case, a ram. Daksha later became a devotee of Shiva.
The cult of Virabhadra largely followed the spread of the Vijaynegara empire, which covered the Deccan plateau and much of the southern tip of India. This militarised version of Shiva became popular probably in the face of the threat that the Hindu states of the south felt from the incursions of the Islamic sultanates. In this way, Virabhadra the warrior was seen as a protector of Hinduism. The deity's most popular period was the period of the 16th-19th centuries. The cult largely subsided by the early 20th century.
Overall, this is an  unusual piece with good puja (prayer) wear and wear that has come from daily ritual washing. It has a fine, chocolatey patina.
References
Albanese, M. & R. Freschi, 'Virabhadra: The divine warrior', Arts of Asia, Autumn 2022.
Pal, P., Art from the Indian Subcontinent: Asian Art at the Simon Norton Museum, Volume 1, Yale University Press, 2003.