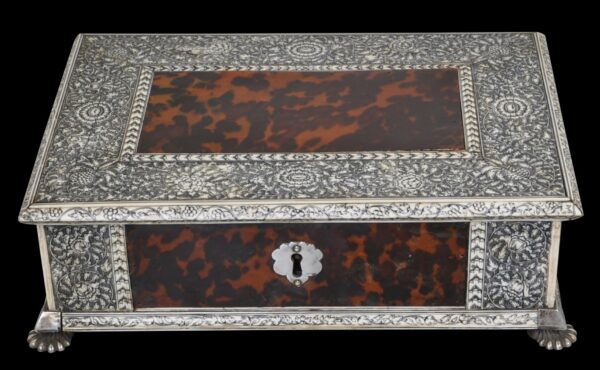 7124
Enquiry about object: 7124
Superb Vizagapatam Ebony Box overlaid with Tortoiseshell & Etched Ivory Veneer with Silver Mounts
Vizagapatam, India circa 1750
height: 8.8cm, width: 27.9cm, depth: 19cm, weight: 1,650g
Provenance
private collection, England.
This superb box of ebony has been overlaid with veneer panels of tortoiseshell and ivory strips which have been densely and finely etched with neoclassical scrollwork that includes tulip-like flower motifs possibly inspired from Dutch silver or engravings, the engraving of which has then been darkened with lac. The key escutcheon, lock, side handles, lower corner mounts and feet are all of silver. The feet are especially fine and unusual, having been cast in a pleasing, zoomorphic form.
The interior has a small compartment to one side with a hinged lid decorated with an etched ivory veneer border. Beneath this is a small drawer, all in solid ebony but with a small drawer pull from carved ivory.
Vizagapatam on India's northern Coromandel Coast which was home to both British and Dutch trading posts, developed towards the end of the seventeenth century as an important luxury cabinet making centre for the European market. Members of the Kamsali caste who specialised in ivory work adapted their skills to decorate items for the European market such as jewellery boxes, desks, and chairs. How the fusion between the traditional Indian craft of incising ivory and decorating European furniture and other luxury goods evolved is not known.
The use of tortoiseshell panels along with ivory is unusual for Vizagapatam work.
The box here has come from a grand English country house. It is in near-perfect condition. There is a lock but no key.
This is perhaps the best example of a Vizagapatam box of this form that we have seen. There are no losses and only some minor age-related light cracking to some of the ivory veneer as might be expected but this is not all that obvious.
Note: this item contains antique ivory but which amounts to less than 10% by volume. It therefore has, as is required by UK law, a non-transferable, UK Ivory Act 2018 exemption permit, submission reference number: 3VK6FKEP
References
Jaffer, A., Furniture from British India and Ceylon: A Catalogue of the Collections in the Victoria and Albert Museum and the Peabody Essex Museum, Timeless Books, 2001.
Jaffer, A., Luxury Goods from India: The Art of the Indian Cabinet Maker, V&A Publications, 2002.
Tchakaloff, T.N. et al, La Route des Indes – Les Indes et L'Europe: Echanges Artistiques et Heritage Commun 1650-1850, Somagy Editions d'Art, 1998.