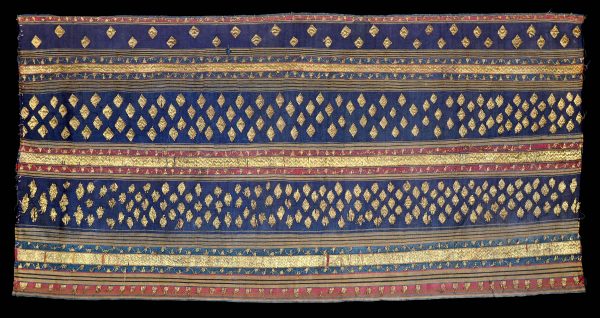 3821
Enquiry about object: 3821
Woman's Ceremonial Skirt (Tapis Tua) Fragment
Pubian People, Lampung, South Sumatra, Indonesia circa 1920
length: 114cm, width: 58cm
Provenance
Acquired in the UK, from the estate collection of Dr George Yuille Caldwell (1924-2016). Dr Caldwell, an English-born physician moved to Singapore in the 1950s, from where he built up a collection of Indonesian textiles and other ethnographica.
This finely embroidered tapis  (ceremonial skirt) fragment is from the Pubian people of central Lampung in South Sumatra.
It comprises silk-cotton dyed with blue, mustard-yellow and orange dyes and is densely embroidered and couched with bands of metallic thread wrapped in gold.
See Brinkgreve & Stuart-Fox (2013, p. 115) for textiles that employ similar motifs and techniques.
The piece is in fine condition, particularly given its age and the material from which it is made. There are some loose threads but the losses are minor.
References
Brinkgreve, F., & D.J. Stuart-Fox (eds), Living with Indonesian Art: The Frits Liefkes Collection, Rijksmuseum Volkenkunde, 2013.
Maxwell, R., Sari to Sarong: Five Hundred Years of Indians and Indonesian Textile Exchange, NGA, 2003a.
Maxwell, R., Textiles of Southeast Asia: Tradition, Trade and Transformation, Periplus, 2003b.
Totton, M.L., Wearing Wealth and Styling Identity: Tapis from Lampung, South Sumatra, Indonesia, Hood Museum of Art, 2009.
Vanderstraete, A., Magie van de Vrouw: Weefsels en Sieraden uit de Gordel van Smaragd, (The Magic of Women), Wereldmuseum, 2012. :