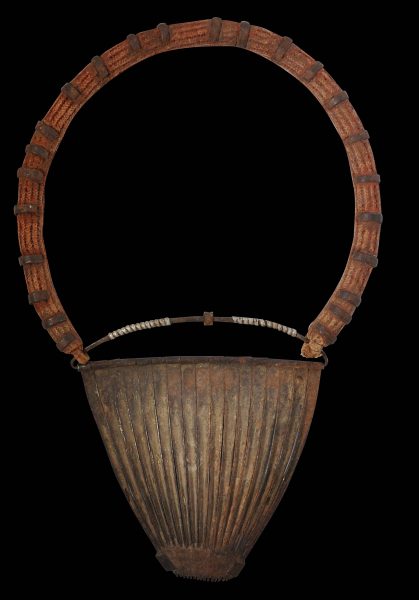 4274
Enquiry about object: 4274
Woman's Iron Pubic Cover (Cache Sexe)
Kirdi and Matakam People, North Cameroon 19th-early 20th century
length: 37.5cm
Provenance
private collection, UK
This pubic cover or cache sexe was worn by women of the Kirdi and Matakam peoples of North Cameroon. It is of forged iron with a hard loop of matted and woven cotton fibre with iron rings. This is attached to a thick iron wire hoop which has been decorated with two twists of aluminium strips.
This is the most traditional type of female pubic cover used in North Cameroon. It is also somewhat erotic in that its shape and texture is meant to mirror what might lay beneath. (Leurquin, 2004, p. 283).
Such covers were worn by married women.
See Daalder (2009, p, 413), Borel (1994, p. 77), and Leurquin (2004, p. 45) for related examples.
References
Borel, F., The Splendour of Ethnic Jewelry: From the Colette and Jean-Pierre Ghysels Collection, Thames & Hudson, 1994.
Daalder, T., Ethnic Jewellery and Adornment: Australia, Oceania, Asia, Africa, Ethnic Art Press/Macmillan, 2009.
Leurquin, A., A World of Belts: Africa, Asia, Oceania, America from the Ghysels Collection, Skira, 2004.