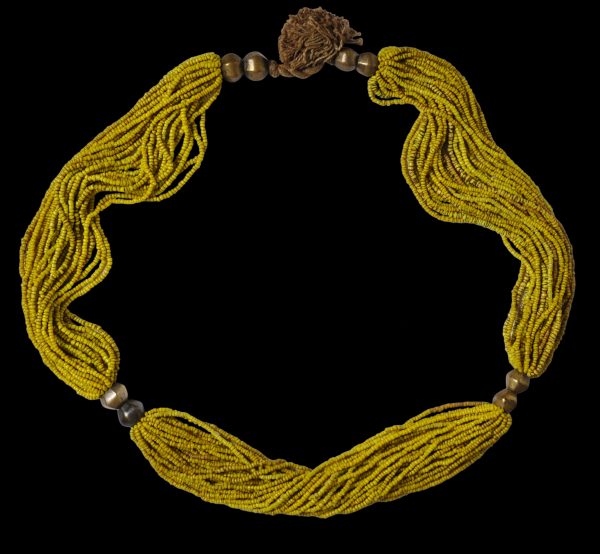 4860
Enquiry about object: 4860
Indian Yellow Venetian Glass & Brass Bead Necklace
Andhra Pradesh, India 19th century
length: 84cm, weight: 280g
Provenance
UK private collection
This fine necklace is of dozens of strands of hundreds of tiny yellow glass trade beads produced in Murano, Venice before and probably well before 1880. The beads are not of uniform size, which is another indicator of their relatively early nature. Venetian glass beads were produced in their millions and exported right around the world. They turn up in 'tribal' necklaces from Borneo, to the Himalayas to the Americas.
The beads were manufactured first as tiny white glass beads which were then dipped in molten yellow glass to give them there colour.
The yellow glass beads here have been accompanied by four large faceted double brass beads made locally in India and of a form that is characteristic of Andhra Pradesh.
Such necklaces were worn by Gondh women in Andhra Pradesh (Untracht, p. 84).
The example here is threaded onto the original twisted cotton thread. They are robust and wearable and have a superb patina.
References
Sarah Corbett, pers. comm.
Untracht, O., Traditional Jewelry of India, Thames & Hudson, 1997.