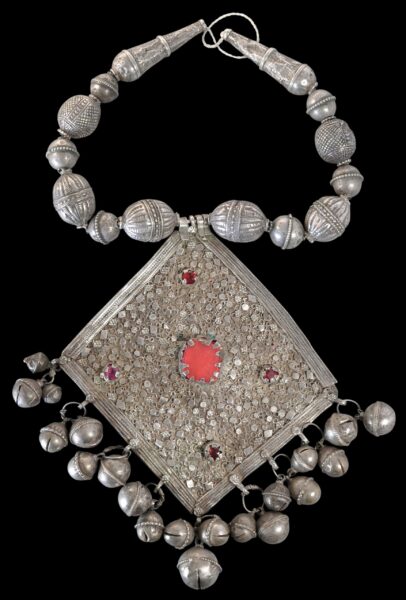 9271
Enquiry about object: 9271
Rare, Unusually Large Silver Yemeni Wedding Chest Ornament Necklace
Zabid, Southern Tihama, western coastal plain, Yemen early 20th century
length of pendant (from loop to the lowest bell): approximately 25.5cm, circumference of necklace component: approximately 54cm, overall weight: 493g
Provenance
private collection, UK; acquired in Saudi Arabia in the 1970s
This rare very large silver chest ornament of pectoral is from the Yemeni people of Zabid in the western coastal plain of Yemen. Zabid is one of Yemen's oldest cities.
It is of lozenge shape and usually was worn on a bride's wedding day.
The surface is completely covered with applied silver filigree, embossed floral plaques,and  small circular and diamond shaped silver plaques, all within borders of bands of raised dot motifs. A central red 'stone' (probably an early version of bakelite) is in a high, box setting.  Smaller faceted, red glass 'stones' also in high box settings surround the central setting.
Silver bells are suspended from the lower edges of the ornament.
The necklaces comprises large silver beads of varying sizes and decoration that are matched on both sides and cone bead finials.
The necklace and pendant shows much signs of age and wear. Some of the beads are dented, worn and with small holes.
This is a piece that has probably been used by several generations and has been worn often.
A similar example is illustrated in Hosli (2023, p, 150) and Ransom (2014, p, 154).
References
Hosli, P., Shine & Mystery: The Splendour and Power of Oriental Jewellery, Knauf-Museum – Iphofen, 2023.
Ransom, M., Silver Treasures from the Land of Sheba: Regional Yemeni Jewelry, AUC Press, 2014.