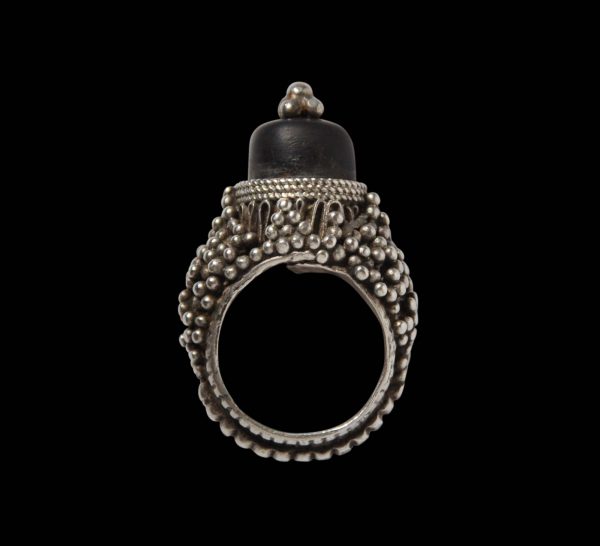 3283
Enquiry about object: 3283
Yemen Silver Ring with Horn 'Stone'
Yemen, probably Saada 19th century
height: 4.3cm; ring size: 8.5 (US), O/R (UK); weight: 18.38g
Provenance
private collection, London.
This impressive ring is of solid silver and is set with a black horn 'stone' which undoubtedly was intended to confer on the wearer talismanic or even medicinal properties.
Such a ring was for a particularly wealthy wearer. The applique granulation work is copious and is laid over applied filigree silver wire work. Such excessive augmentation was expensive and designed to allow the owner to show-off her wealth.
See van Cutsem (2000, p. 99) for related (though less elaborate) rings from Yemen, and also Ransom (2014, p.63).
This example is among the more impressive of this type that we have seen. There are no obvious losses. It is wearable and stable.
References
van Cutsem, A., A World of Rings: Africa, Asia, America, Skira, 2000.
Ransom, M., Silver Treasures from the Land of Sheba: Regional Yemeni Jewelry, AUC Press, 2014.