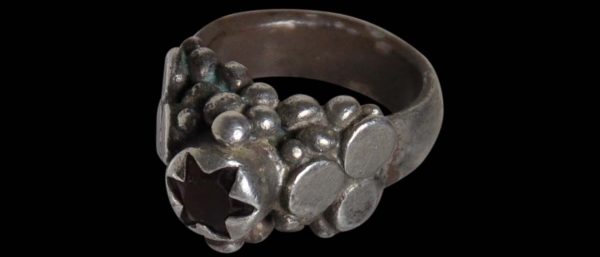 5118
Enquiry about object: 5118
Yemen Silver & Stone Ring
Bedouin People, Yemen early 20th century
weight: 21.57g, US ring size: 8/9, UK ring size: R
– scroll down to see further images –
This interesting ring, made for a woman, is from the Bedouin people of Yemen.
It is decorated with granulation work and applied flattened disks.  The bezel is raised and set with a red stone.
Related examples are illustrated in van Cutsem (2000, p. 99).
The ring here is stable, wearable, and has clear age. The contours of the ring and the applied decoration have all been softened from years of handling and wearing. It is heavy for its size.
References
van Cutsem, A., A World of Rings: Africa, Asia, America, Skira, 2000.
Ransom, M., Silver Treasures from the Land of Sheba: Regional Yemeni Jewelry, AUC Press, 2014.
van Roode, S., Desert Silver: Understanding Traditional Jewellery from the Middle East and North Africa, BLKVLD, 2017.