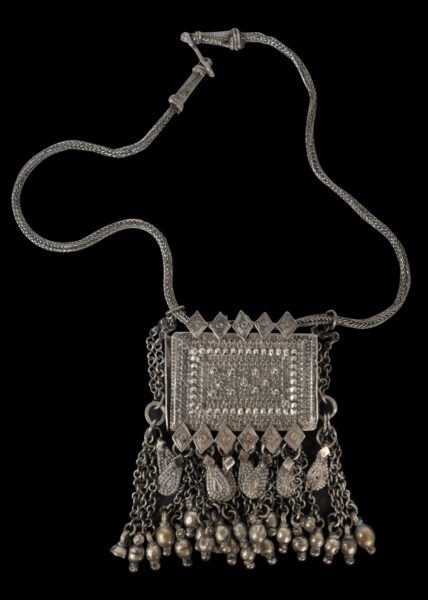 3413
Enquiry about object: 3413
Yemeni Silver Amulet Box (Hirz) & Chain
Bedouin People, possibly Rayma Region, Yemen early 20th century
overall length of chain: 70cm (35cm when worn), width of box & attachments: 11cm, weight: 490g
– scroll down to see further images –
This fine necklace and amulet box is from the the Bedouin people of Yemen.
The box itself, which is known as a hirz, is of silver and decorated with applied silver plaques and silver granulation work.
The box opens at one end to allow slips of paper inscribed with protective Koran verses to be slipped inside.
Suspended from it are eight groups of chains which terminate with silver bells and silver tear-shaped plaques decorated with applied silver granulation and wire work.
The necklace itself if of thick woven silver wire and closes with a silver hook and catch.
The overall necklace and amulet box is in fine, wearable condition. There are minor losses to some of the bells.
References
Ransom, M., Silver Treasures from the Land of Sheba: Regional Yemeni Jewelry, AUC Press, 2014.
van Roode, S., Desert Silver: Understanding Traditional Jewellery from the Middle East and North Africa, BLKVLD, 2017.