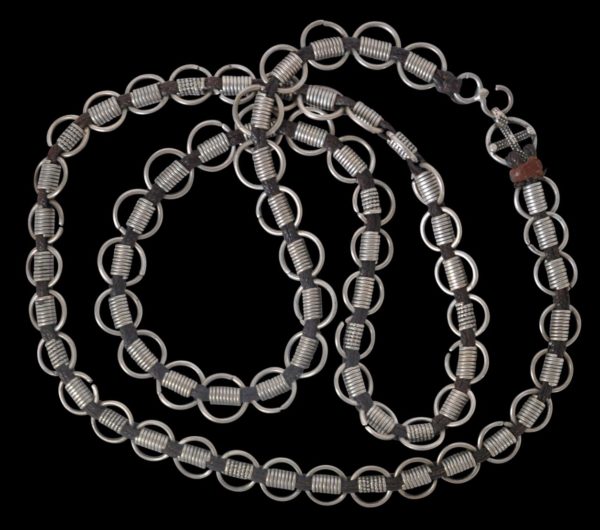 6422
Enquiry about object: 6422
Yemeni Man's Goat Leather & Silver Belt
Bedouin People, Shihr, Yemen 20th century
length: 168cm, weight: 572g
– scroll down to see further images –
This long belt was made to be worn by a Yemeni Bedouin man, probably diagonally across the chest and back. It is of silver alloy wire tubes and loops strung on finely plaited strips of goat leather.  It closes with a simple hook mechanism. The loops would have facilitated the suspension of necessary items such as daggers perhaps, or personal grooming kits.
Ransom (2014, p. 203) identifies a possible maker for this type of belt – Salih Muhammas Bada'ud of Shihr (also known as ash-Shihr or al-Shir), and illustrates a related example.
Shihr is a  coastal town in Hadhramaut, eastern Yemen.  It was a major port on the incense trade route and large quantities of frankincense passed through it on the way to destinations in India, China and elsewhere.
The belt is in excellent condition. The leather has a lovely aged patina.
References
Ransom, M., Silver Treasures from the Land of Sheba: Regional Yemeni Jewelry, AUC Press, 2014.