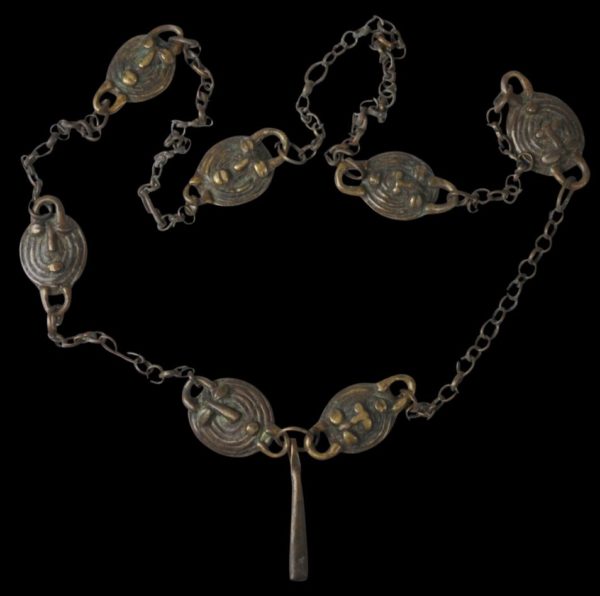 4474
Enquiry about object: 4474
Yoruba Cast Brass Opele Oracle Chain
Yoruba People, Nigeria 19th century
circumference: approx.: 96cm, weight: 178g
This Yoruba  opele oracle chain consists of seven brass or copper alloy medallions each cast with a stylised face on one side and a zoomorphic figure in relief on the other, joined by a brass chain and with once central pendant brass dangle.
Traditionally, opele palm nuts were reserved for more important divination rituals (Grootaers, 2002, p. 76). An opele oracle chain such as this was used for less complicated divinations. Such chains could be used for more important divinations but the results were regarded as potentially less accurate. The chain would string together a series of halved opele nuts but in the case here, the nuts have been replaced by cast brass masks.
Opele nuts are the bisected fruit capsules from the opele tree (schrebera golungensis). The bisected nuts have a central ridge on the concave interior.
During the divination ritual, the diviner would grip the chain in the middle and strike it on a divination board such that the chain's two halves fell into approximate parallel lines. The diviner then proceeded to examine the halved opele nuts. If the central ridge of the halved nut was visible, the diviner drew a double line on the board. If the central ridge is concealed because the nut faces down, a single line was drawn on the board. This would tend to be repeated until one of the 256 recognised odus is created. (An odus is a set of accepted traditional binary patterns or codes that  evolved over hundreds of years of observation and prediction.) Divining with an opele chain was faster than using palm nuts to seek guidance from the spirits – one strike of the chain equalled eight throws of the palm nuts!
The chain here has a fine patina and wear consistent with age and use, and yet is in fine condition. There are seven medallions or 'coins'. Traditionally there would be eight.
We are aware of only one published example of a similar brass opele chain – Grootaers, (2002, p. 76).
References
Grootaers, J. L. & I. Eisenburger, Forms of Wonderment: The History and Collections of the Afrika Museum, Volume 1, Berg en Dal, 2002.