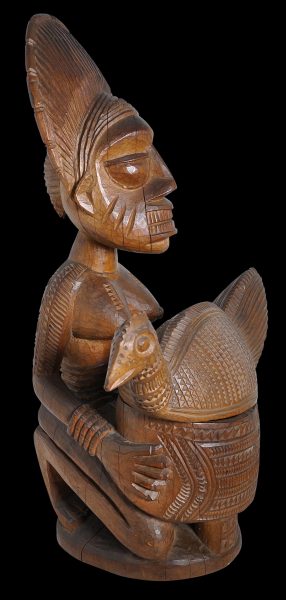 2421
Enquiry about object: 2421
Yoruba Maternity Figural Offering Bowl
Yoruba People, Nigeria before 1938-39
height: 64cm
Provenance
Collected by the artist Donald Friend in Nigeria, 1938
– scroll down to see further images –
This carved wooden figure of a kneeling woman holding a bowl in the form of a cock or chicken was collected in Nigeria in 1938-39 by the Australian artist Donald Friend who lived in Nigeria briefly where he was appointed as financial advisor to Ogoga (ruler) Awolodulo II in Ekiti Province, and lived in the Ogoga's compound.
The image is referred to by the Ekiti people as anOlumeye ('She-who-is-worthy-of-honour'). It depicts a woman who is said to be a messenger of the spirits. Such sculptures were used to hold kola nuts which were offered to visitors, as shrine containers for offerings to an orisa, and to hold palm nuts used in Ifa divination (Rowland, Drewal & Pemberton, 1991, p. 39). Traditionally, kneeling was a gesture of respect and devotion among the Yoruba.
The image, on a rounded base, is carved from a single piece of wood. The chicken lid is carved from another piece of wood.
The figure has an oval face and bulging almond eyes with prominent eyelids. The nose is sharp; the lips are protruding and part to reveal a prominent set of teeth.
Three vertical scarifications are on both cheeks. This type of scarification, termed pele, is regarded by many Yoruba communities in south-western Yorubaland as 'gems' on the human face.
The figure has an elongated headdress: a raised single-crested coiffure with prominent, incised ribbing. Such a coiffure is suggestive of the irun agogo style of headdress which is commonly related to marriage.
The torso is erect. Five bracelets are carved on each wrists. Geometric carving work is around the female figure's shoulders and pointy breasts, and all over the back. The figure also wears a wide, tiered waist band.
The bowl that the figure clutches is heavily carved with rows of geometric motifs. The chicken lid is similarly carved.
The item is in fine condition – it has a darkened patina. There are some age-related shrinkage cracks as can be expected, but it is a stable, robust condition.
Donald Friend is one of Australia's best known artists. In 1936, Friend travelled from Sydney to London where he studied at Westminster Art School. In 1937 he took part in his first group exhibition at REA Wilson's Gallery at 32 Cork Street, London. In 1938, he travelled to West Africa, arriving in Lagos. He travelled to Ikerre, inland in Ekiti province, where he met the local Ogoga (ruler) who appointed him his financial adviser in 1939.
Friend returned to Sydney in 1941. In 1945 he was made an official war artist and is sent to New Guinea and Borneo before returning to Sydney. In 1949, he visited Ceylon (Sri Lanka) while on his way to Italy. He returned to Ceylon to live in 1957, staying until 1961. In 1966 he visited Bali and decided to stay, building a house near the beach at Sanur. He became one of Bali's most famous residents and received many well known foreign visitors at his house. He stayed until 1980 when he returned to Sydney. All the while, he collected momentos of his travels of which this sculpture is one. They all ended up with him in Sydney where he finally settled.
Friend talks in his diaries (Gray, 2001, p. 72) about visiting the market near the Ogoga's compound to buy wood carvings. 'It was behind the Orisa Ogbe shrine with its bright-hued carved posts that face the Odoaja market and the huge fetish trees and mounds of boulders that I purchased one of the loveliest pieces of carving I have ever seen – a small piece representing an early Ikerran queen kneeling and holding a double-headed chicken. The subject is common enough, but it is uncommon to find it treated with such exquisite grace and precise workmanship. Somehow despite the calm yet virile spirit of the work, it seemed to be imbued with the elegant grace of a Chippendale Chinoiserie. Each detail of the tattoo marks, the coiffure, the neck ornament, and the patterning on the chicken (which opened to disclose a hollow for containing kola) showed an exact and lovely precision of incised decoration.'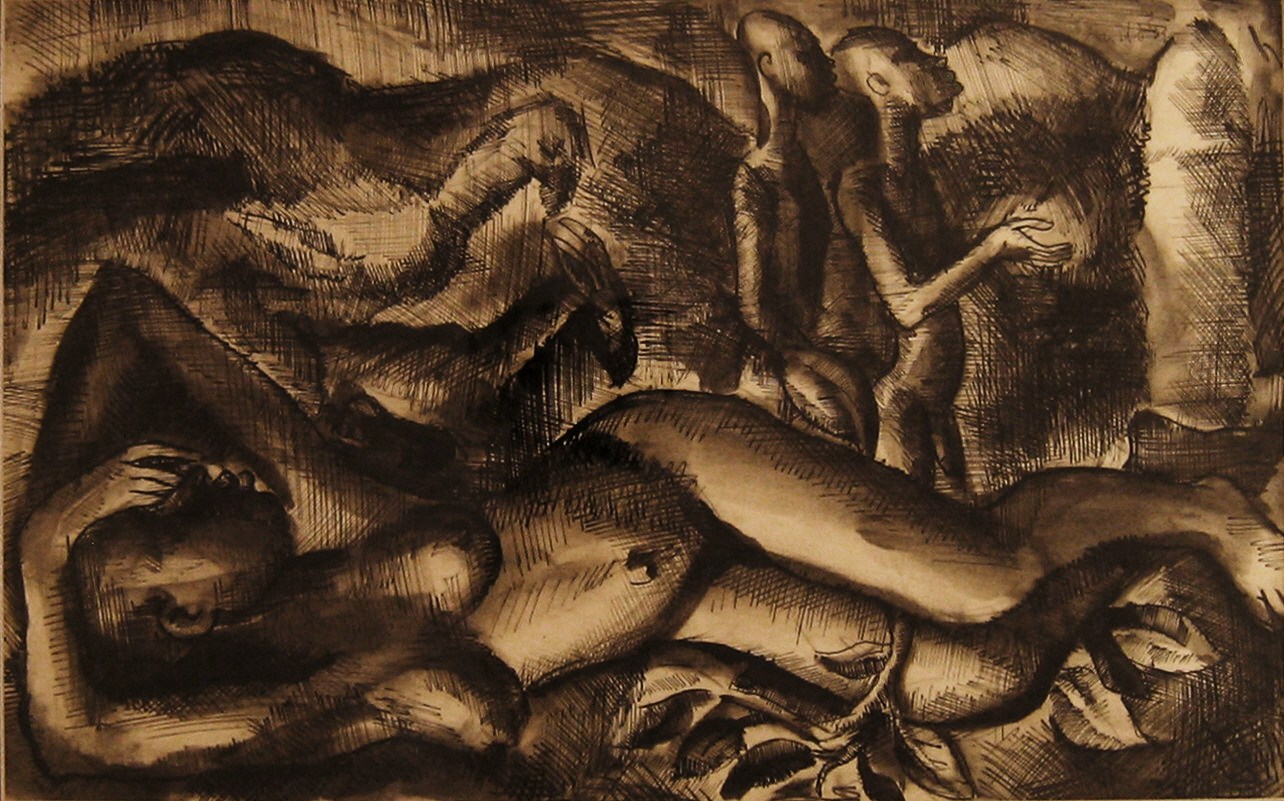 The carved bird in the sculpture here might have served as a model for the bird elements in the above ink and wash drawing by Donald Friend (now in a private London collection) which Friend completed in Nigeria in 1939 (signed and dated 1939).
References
Gray, A. (ed.), The Diaries of Donald Friend, Volume 1, National Library of Australia, 2001.
Pearce, B., Donald Friend 1915-1989: Retrospective, Art Gallery of New South Wales, 1990.