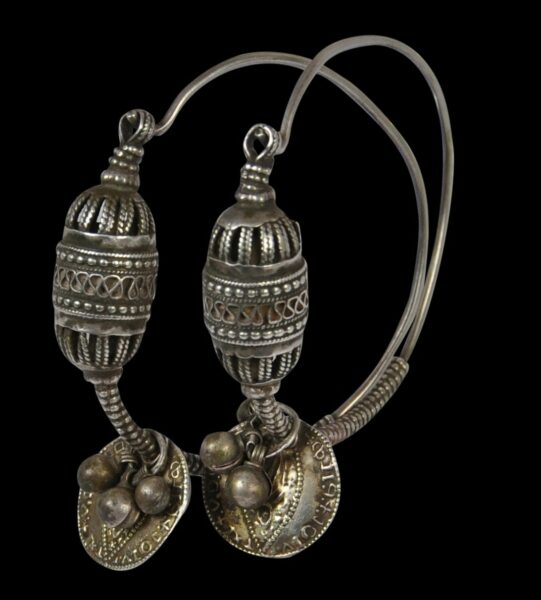 5267
Enquiry about object: 5267
Zanzibar-Oman Ear Ornaments with 'Venetian Ducat' Tokens
Sur, Oman or Zanzibar 19th-early 20th century
length: approximately 8cm, combined weight: 37g
This rare pair of silver ear ornaments is from either Sur in Oman or Zanzibar.
Each comprises a large silver hoop with a large, cage-like, open-work, elongate silver bead decorated with a mid-section of applied filigree scrolls. Beneath this each has three silver bells and a strange coin-like double-sided token.
These tokens were locally made but actually based on the gold ducat or zecchino of the Venetian Republic. The ducats were minted in Venice for more than 500 years – from 1284 until the conquest of Venice by Napoleon's troops in 1797.
The tokens here have the same array on both sides as Venetian ducats, but have become more stylised in translation. The coins and copied tokens were believed to have talismanic properties.
The earrings are in excellent condition and with a fine patina.
References
Forster, A., Disappearing Treasures of Oman, Archway Books, 1998.
Norris, M., & P. Shelton, Oman Adorned: A Portrait in Silver, Apex Publishing, 1997.
Rajab, J.S., Silver Jewellery of Oman, Tareq Rajab Museum, 1998.