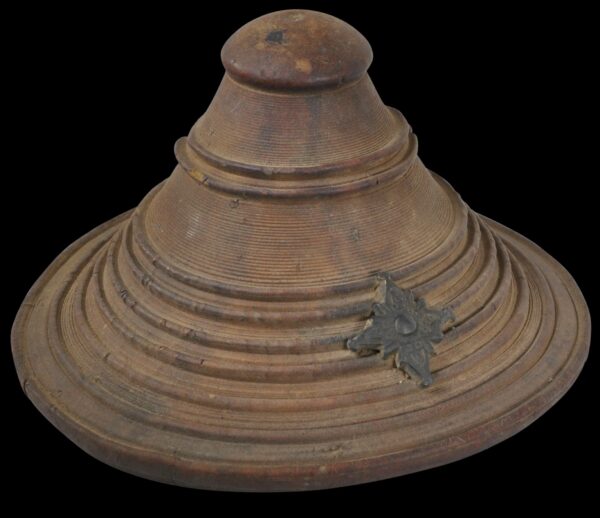 8737
Enquiry about object: 8737
Zanzibar-Omani Hide Shield with Brass Mounts
Southern Oman/Zanzibar 19th century
diameter: 24.8cm, height: 14cm, weight: 1,066g
This fine example of a thick, pressed leather shield for the Omani market most probably made in Zanzibar on East Africa's Swahili Coast. It has a high, domed form and is decorated with raised bands and brass mounts.
The shield is made from a single, moulded piece of thick, hard hide that is almost wood-like in its density. It has been moulded with dozens of varying concentric rings, and has a high, central dome.
Two pierced, star-burst motifs in cast brass are attached to either side of the shield. These hide the tops of the bolts that secure a handle or grip in place on the reverse.
The grip on the reverse is of carved wood. One end of the grip also has a brass loop for suspension.
Such shields usually are believed to be made from rhinoceros hide which is notoriously thick and tough. Other hides, such as compressed water buffalo hide might also have been used.
See Tirri (2003, p. 103) for a similar example.
The island of Zanzibar was ruled by the Omanis as a quasi-colony in the 19th century with the Sultan of Oman actually relocating his court to Stone Town, the island's capital. Commercial and migratory links between Oman and Zanzibar were very close with the latter being a source of ivory, slaves, wood, rhinoceros hide, and other commodities.
The example here has obvious age. There is an old and small loss to the rim and some loss to the ridged band decoration.
References
Tirri, A.C., Islamic Weapons: Maghrib to Moghul, Indigo Publishing, 2003.