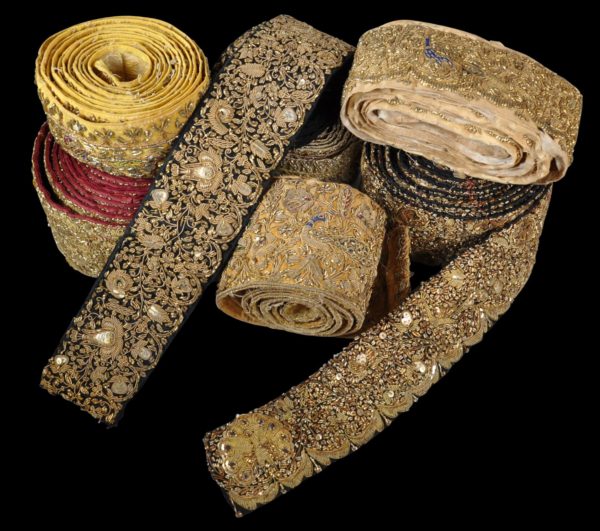 6222
Enquiry about object: 6222
Seven Very Fine Indian Zardozi Textile Borders
Northern India 19th century-early 20th century
6.3cmx149cm, 7.7cmx115cm, 4.7cmx185cm, 7.2cmx335cm, 6.0cmx306cm, 5.5cmx258cm, 5.8cmx327cm
Provenance
private collection, UK
These seven strips of textile edging are embroidered and couched with thick gold-wrapped and other metallic thread, a technique known as zardozi work. Spangles and other decorative elements also have been applied.
This type of work known in India as zardozi whereby raised gold embroidery was added to velvet and cloths, probably was introduced by the Portuguese. Many Indian royal houses commissioned zardozi embroiderers to embellish jackets, shoes, umbrellas and even crowns with this work that were to be worn and used in the court. The zardozi embroiderers typically were Muslim men.
Motifs on the edgings include peacocks, other birds, palm trees and luscious, plump blooms!
The edgings would have been used to decorate the ends of the sleeves and other borders of the jackets and other clothing items of the nobility. Also, similar edgings were used among the wealthy merchant Parsi (Parsee) or Zoroastrian community of Bombay and its environs. See Shah & Vatsa (2010) for examples.
Each of the endgings here is in fine, usable conditions. Loose threads are at a minimum.
References
Allen, C., Maharajas: Resonance from the Past, Mercury Books, 2005.
Arts of India: Virginia Museum of Fine Arts, Philip Wilson Publishers, 2001.
Shah, S., & T. Vatsal, Peonies & Pagodas: Embroidered Parsi Textiles – The Tapi Collection, Garden Silk Mills, 2010.
Stewart, S. (ed.), The Everlasting Flame: Zoroastrianism in History and Imagination, SOAS, 2013.