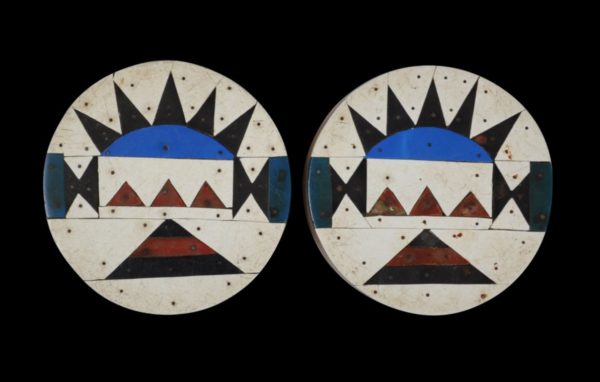 5724
Enquiry about object: 5724
Zulu Wooden Ear Plugs with Bakelite Tile Decoration
Zulu People, South Africa circa 1940
diameters: 5.5cm, thickness: 0.8cm
Provenance
private collection, UK
This fine pair of round ear plugs is from the Zulu people of South Africa. Each is made from a cross section of a small log or branch of wood (the concentric growth rings are apparent on the reverse).
The fronts are overlaid with thin mosaic tiles of bakelite tiles in a matched geometric design. The colours are cream, black, blue and red. The tiles are held in place with tiny steel pins.
Bakelite (also spelt baekelite) was the first plastic made from synthetic components in a process developed by Belgian-American chemist Leo Baekeland in 1907.
The preparedness of the Zulus to use this new material in their traditional forms of adornment illustrates their relative preparedness to adapt and innovate in their quest for beauty and decoration.
The examples here are in good condition. They have obvious age (unlike many extant examples). One small tile has some age and wear-related loss, but otherwise there are no losses and no repairs.
See Borel (1994, p. 101) for a similar pair.
References
Borel, F., The Splendour of Ethnic Jewelry: From the Colette and Jean-Pierre Ghysels Collection, Thames & Hudson, 1994.