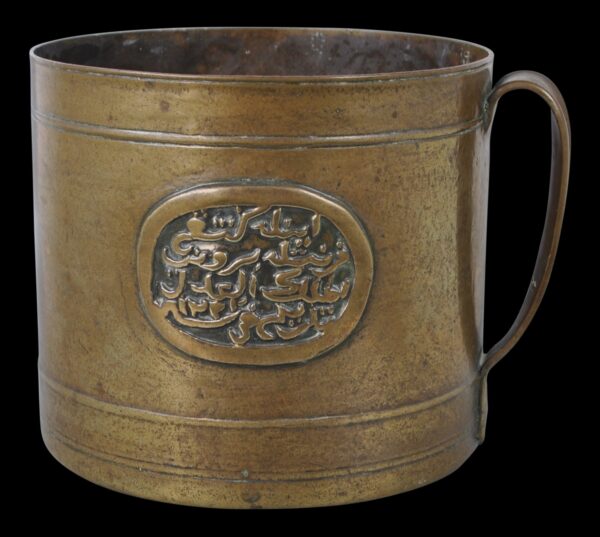 9158
Enquiry about object: 9158
Brunei Brass Grain Measure (Gantang)
Brunei dated 1876-76
diameter: approximately 18.7cm, height: 16.5cm, weight: 2,225g
Provenance
private collection, Channel Islands
This brass grain measure known as a gantang was an official measure, sanctioned by the court of the Brunei sultan, and such measures were in use throughout the sultanate.
It is of wide, squat, cylindrical form, and with a handle to one side. It has been cast with a prominent cartouche filled with Jawi script (Arabic adapted for Malay) and a date which approximates to 1899-1900 in the Western calendar. The inscription indicates that the measure has been officially mandated by the ruler.
Such official measures were used in Brunei in the 19th and early 20th centuries to measure padi rice. One gantang amounted to just over 4.5 litres of dry capacity.
The calligraphic panel, in cast high-relief, says:
Inilah gantang perintah Brunei al-malik al-'adil tarikh fi sanat 1292, or 'This is the gantang [officially] ordered [in] Brunei [by] the just ruler, dated the year 1292 (approximately 1875-76)'.
Thus, the measure here was produced during the reign of of Sultan Sultan Abdul Mumin (r. 1852-1885).
(The figure '9' in the inscription is actually written the wrong way round but this is common in Malay inscriptions and accounts for the many misreadings of the numeral.)
Similar examples are illustrated in Singh (1985, p. 36), Islamic Arts Museum Malaysia (2005, p. 205) and Green (2023, p. 73). The latter example previously was sold by us to the British Museum.
Brunei was a significant centre for brass casting in the 19th and earlier centuries. Products made from brass in Brunei were exported to other part of Borneo and were much prized.
This example has an excellent honey-brown patina. The base has (very) old patch repairs and even a small hole from the measure having seen much use.
References
Gallop, A., 'From court to kampung: Inscribed brass vessels from Brunei', paper presented to EUROSEAS 2019, Berlin, 10-13 Sept 2019.
Gallop, Annabel, Pers. comm.
Green, A., Southeast Asia: A History in Objects, Thames & Hudson/British Museum, 2023.
Islamic Arts Museum Malaysia, The Message and the Monsoon: Islamic Art of Southeast Asia, IAMM Publications, 2005.
Singh, B., Malay Brassware, National Museum of Singapore, 1985.