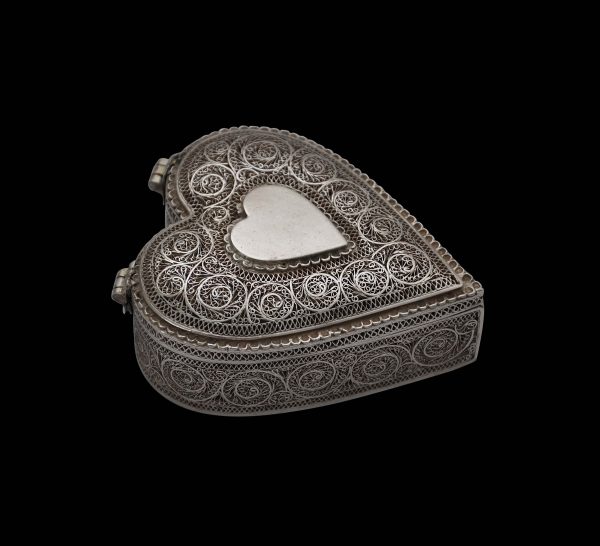 3520
Enquiry about object: 3520
Dutch Colonial Silver Filigree Heart-Shaped Box
Dutch East Indies, possibly Batavia or Sumatra 18th century
length: 7cm, width: 5.5cm, height: 2.5cm, weight: 91g
This fine little heart-shaped box has its sides and much of its cover composed of fine silver filigree spirals. The base and the central part of the hinged cover are of plain sheet silver. Most probably it was made in the Dutch East Indies (present-day Indonesia) during the 18th century. It served no clear purpose other than being an attractive small box for keepsakes.
The combination of wide, flattened wire components with fine twisted filigree work is found on articles often ascribed to Goa of the second half of the seventeenth century – see Menshikova (2006, p. 43) for two examples, and Levenson (2007, p. 263-4) for others. Menshikova refers to filigree items of this type as having been made by 'Chinese masters in India or Southeast Asia' in the seventeenth century, which leaves open the possibility that such items might have been made in Batavia or Sumatra perhaps, and most probably traded by the Dutch East India Company (VOC). Two caskets that also show the flattened and fine filigree wire mix are illustrated in Museo de Sao Roque (2006, p. 212 and p. 214). Both are attributed simply to India. Karimnagar is another possible place of manufacture where the style of filigree work is not unlike that attributed to Goa. The 'Chinese' nature of the design, particularly in the top of the box, means that China itself cannot be definitely ruled out as the place of origin. Certainly a silver filigree salver in the Hermitage Museum, St Petersburg, and illustrated in Menshikova (p. 38) which has very similar filigree work is ascribed to mid-17th century China. But increasingly, a consensus of opinion is emerging that the type of silver filigree shown on the box here was produced in the Dutch East Indies, perhaps in Sumatra or Batavia, for export to the Indian market.
The box here is in fine condition and is without repairs or noticeable losses.
References
Jordan, A. et al, The Heritage of Rauluchantim, Museu de Sao Roque, 1996.
Levenson. J. (ed), Encompassing the Globe: Portugal and the World in the 16th and 17th Centuries, Arthur M. Sackler Gallery, 2007.
Menshikova, M., Silver – Wonders from the East: Filigree of the Tsars, Hermitage Amsterdam, 2006.
Museo de Sao Roque, The Heritage of Rauluchantim, 2006.
Veenendaal, J., Asian Art and the Dutch Taste, Waanders Uitgevers Zwolle, 2014.