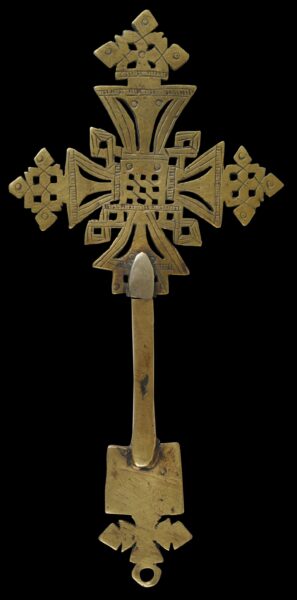 7085
Enquiry about object: 7085
Ethiopian Brass Hand Cross (Yaegg Masqal)
Ethiopia 19th century
length: 21.2cm, width: 10.2cm, weight: 129g
Provenance
private collection, Scotland.
This fine, pierced cross has been cut from several pieces of brass. It was made to be held in the hand and is known as a yaegg masqal.
The cross is a pattee cross with flared arms that terminate with pierced quatrefoils. It is decorated on both sides with engraved line ornamentation and stamped with circles.
The base is decorated with a square that ends in a trefoil and has a loop.
The handle is squarish.
The item as a fine patina.
References
Biasio, E., Majesty and Magnificence at the Court of Menelik: Alfred Ilg's Ethiopia around 1900, Verlag Nueue Zurcher Zeitung, 2004.