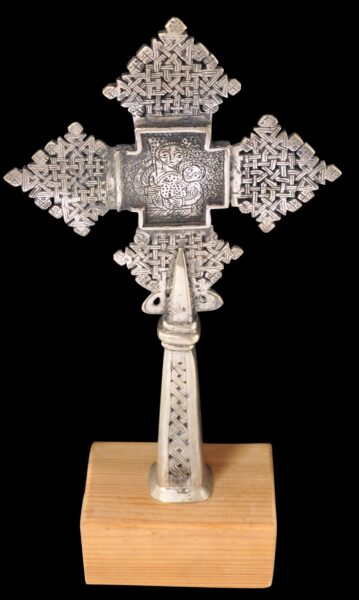 9187
Enquiry about object: 9187
Small Ethiopian Silver Processional Cross
Ethiopia 19th century
height (including stand): 30.6cm, width: 15.4cm, weight (including stand): 581g
Ethiopia has one of the world's oldest Christian communities.
This small, pierced processional Cross has been cast in silver and engraved. There are remnants of gilding.
It is double-sided. On one side, the intersection of the upright post and the crosspiece is engraved with the Holy mother and child. On the other, is an image of the archangel Gabriel. This image is upside down, probably so that when a priest held the Cross downwards perhaps for a member of the faithful to kiss the image, the image would appear right way up, to the viewer. (The archangel Gabriel is one of the most revered saints in the Ethiopian Orthodox Church.)
It would have been displayed on festive occasions and used in religious processions. The base is fitted with a conical tube that has been soldered on. A wooden staff would have been inserted into this to allow the Cross to be held aloft.
The Cross is not just a symbol of Christ's Crucifixion and suffering but also of his Resurrection. Processions often feature many priests each with a processional Cross. The Crosses both mark out the parameters of the holy procession, as well as leading the way for the faithful.
The form follows that which is typical for Ethiopian processional Crosses – a quatrefoil, equal-armed Greek Cross.
Similar examples are illustrated in Seiwert (2009, p. 93) and Phillips (2004, p. 125).
Such processional Crosses were made in monasteries by specially trained monks.
The example here is in fine condition. It is attached to a simple, pinewood stand, perhaps befitting notions of Christian piety.
References
Biasio, E., Majesty and Magnificence at the Court of Menelik: Alfred Ilg's Ethiopia around 1900, Verlag Nueue Zurcher Zeitung, 2004.
Mercier, J., Art of Ethiopia: From the Origins to the Golden Century, Editions Place des Victoires, 2021.
Perczel, C.F., Ethiopia: Folk Art of a Hidden Empire, Mingei International, 1983.
Phillips, T., Africa: The Art of a Continent, Prestel, 2004.
Seiwert, W.D., Jewellery from the Orient: Treasures from the Bir Collection, Arnoldsche Art Publishers, 2009.