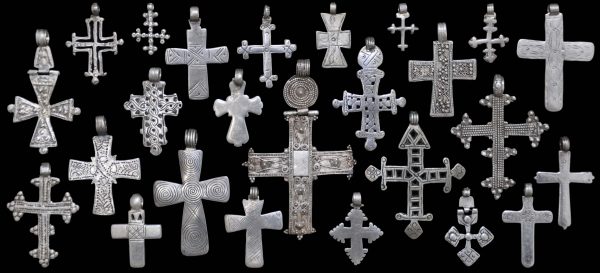 4872
Enquiry about object: 4872
Collection of 145 Ethiopian Silver Crosses (Yangat Masqal)
Ethiopia 19th-early 20th century
approximate total combined weight: 2.2kg
Provenance
private collection, UK.
This collection of 145 crosses (yangat masqal) – scroll down to see the full collection – is notable because each cross has been well chosen for its patina, wear and clear age, but also because each cross is unique. The collection provides a taxonomy of these crosses. It has been carefully assembled over decades and is almost certainly one of the single largest surveys of such crosses.
Each is small – the larger ones are around 9cm in length – but the collection on total weighs more than two kilograms.
Each cross was designed to be worn on a chain around the neck. Each is of silver and several appear to be gilded or plated with gold. Most are pierced and engraved and each has a loop at its top to allow suspension. Some are decorated with silver filigree. Others are solid cast and more plain in decoration.
They were worn by Christian groups in Ethiopia particularly in Tigray and Wollo provinces as a sign of their faith. It is believed that certain styles relate to particular churches, with their being regional variation. Particular saints were venerated at specific churches, so pilgrims might travel to certain churches to seek the aid of particular saints. They might buy or commission a cross in the local style as a keepsake of their pilgrimage. Thus, the one individual might have several different types of crosses as a memento of his or her visits to various churches and locations.
Related examples in the Volkerkundemuseum of the University of Zurich are illustrated in Biasio (2004, p. 222). Other similar examples are illustrated in Leurquin (2003, p. 110).
Many if not most examples of such crosses available today are new or close to it.  So this collection represents a rare opportunity to have in one location so such an assortment of examples but which all have significant age. Each is in a fine and wearable condition.
References
Biasio, E., Majesty and Magnificence at the Court of Menelik: Alfred Ilg's Ethiopia around 1900, Verlag Nueue Zurcher Zeitung, 2004.
Leurquin, A., A World of Necklaces: Africa, Asia, Oceania, America from the Ghysels Collection, Skira, 2003.