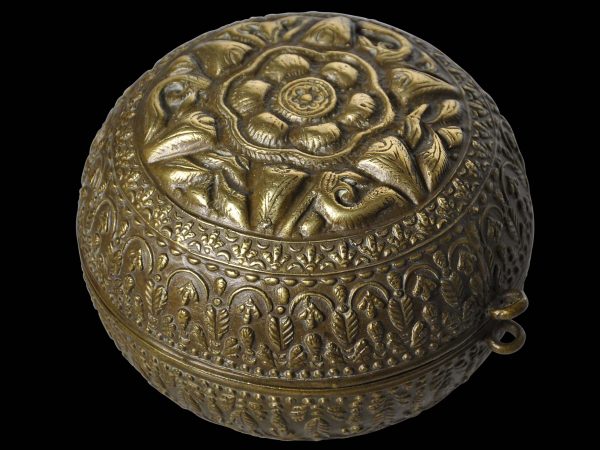 2708
Enquiry about object: 2708
Large Indonesian Cast Brass Lime Container
Toba Batak People, North Sumatra, Indonesia circa 1900
diameter of sphere: 11.2cm
– scroll down to see further images –
This unusually large spherical brass box, cast in two halves, was used to carry lime, an essential part of the betel quid. It originates from the Batak people of the Lake Toba region of North Sumatra. This box is elaborately and particularly finely cast all over with floral and pendant betel (sirih) leaf motifs. It is the finest example we have seen. It is atour de force in Sumatran brass casting work.
It has been cast with matching lugs on each half to allow suspension.
A smaller, less elaborate example is in the collection of the National Museum of Singapore (inventory no.B0100) and illustrated in Singh (1985, p. 18).
Another, also small, is illustrated in Sibeth (1991, p. 171).
The container is in excellent condition.
References
Singh, B., Malay Brassware, National Museum of Singapore, 1985.
Sibeth, A., The Batak: Peoples of the Island of Sumatra, Thames & Hudson, 1991.