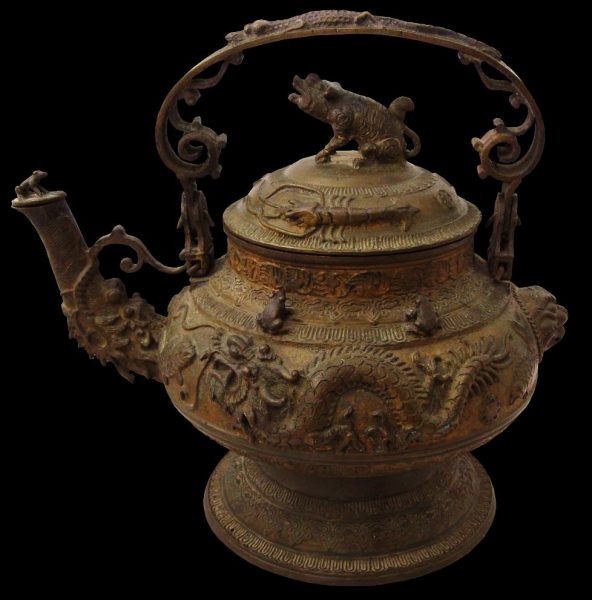 803
Enquiry about object: 803
Large Zoomorphic Borneo Bronze Kettle (Cerek)
Borneo - Sarawak (Malaysia) or Brunei 19th century
height: 30cm, length: 39cm
Provenance
Acquired from the UK antiques market (southern England) and most probably has been in the UK since the colonial period.
This monumental, large brass or bronze kettle probably was cast in the 19th century on Borneo island in either Brunei or Sarawak state (now a part of Malaysia). It stands on a wide foot cast with geometric and lotus petal motifs.
The sides of the body are cast with two dramatic Borneo-type dragons, fish, lotus root segments and a grotesque gargoyle mask. On the shoulder of the base stand – Dongsan-like – four cast tree frogs. Another has been cast onto the flap that slides over the end of the spout. A lid, which sits in the kettle, has a grotesque amphibian-like creature as its finial. A pair of river prawns with extended claws have been cast into the side of the lid along with two lotus root cross-segments. The spout emits from the mouth of a bearded dragon. A large cast handle with elaborate scrolls has cast into the top a snub-nosed crocodile.
The kettle was used not for heating or preparing beverages but for hand washing on ceremonial occasions, particularly by Iban people on Borneo. It was also used as a store of wealth and traded like currency.
A kettle as large and elaborate as this one would have been used for special feasts only, particularly for weddings where wealth and ostentation need to be on display, and only in wealthier households.
Extant examples of old brassware from Brunei and elsewhere on the island of Borneo frequently exhibit strong Chinese influence such as dragons despite Islam being Brunei's main religion today.
Children's stories that are still told today in Brunei and Borneo feature tales of Chinese princes and dragons. One tells of a dragon that lives atop Mount Kinabalu (Borneo's highest mountain) where it guards a magnificent precious stone the size of a peacock's egg. The Emperor of China hears about the stone and tells his three sons that whichever one of them brings back the stone will be made his heir; the other two will be killed. One son manages to trick the dragon and captures the stone. But the other sons lie to their father that they were the ones to take the stone. Ultimately, the Emperor discovers this deception and the wayward sons escape China, one of whom returns to Brunei and founds a princely dynasty there. A related example is in the collection of the National Museum of Singapore and illustrated in Singh (1985, p. 22). See also Chin (1980, p. 46).
The last images show a related version displayed in Malaysia's National Museum. This example is missing the cap over the spout. (Photographed in February 2017).
References
Chin, L., Cultural Heritage of Sarawak, Sarawak Museum, 1980.
Singh, B., Malay Brassware, National Museum of Singapore, 1985.