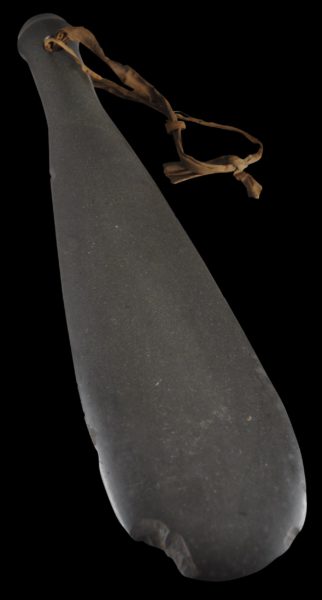 6522
Enquiry about object: 6522
Maori Greywacke Club (Patu Onewa)
Maori People, New Zealand 18th century
length: 37.2cm, width: 9.4cm, weight: 1,109g
Provenance
private collection, London, UK; prior to that, Christie's Paris, December 2003.
A patu is a club that was used by the Maori in war, generally in hand-to-hand combat. Accordingly, most extant examples in public collections and which date to the 18th century have chips and nibbles to their edges, generally the result of having coming into contact with bone or another patu. Most examples that are not so chipped either are not old, or have edges that have been ground back, relatively recently, to make them smooth and presumably more commercial to the unsuspecting.
The example here follows the conventional form with a tapering, paddle-shaped blade. It has a butt with three concentric ridges, and an old round hole for a wrist cord (an old wrist cord is present). It is larger and longer than is typical, having a a slightly more elongated form than most.
It has been made from a single piece of hard, green-grey greywacke stone.
Similar examples, in the British Museum, are illustrated in Starzecka et al (2010). These are all attributed to the eighteenth century.
The example here is in fine condition with obvious but old and authenticating chips to the edges.

A similar basalt example, attributed to the 18th century & part of the Royal Collection, displayed currently at Buckingham Palace, as part of the exhibition, George IV: Art & Spectacle. This patu was in the private collection of King George IV.
References
Heard, K. & K. Jones, George IV: Art & Spectacle, The Royal Collection Trust, 2019.
Hooper, S., Pacific Encounters: Art & Divinity in Polynesia 1760-1860, British Museum Press, 2006.
Starzecka, D. C., R. Neich & M. Pendergrast, The Maori Collections of the British Museum, British Museum Press, 2010.