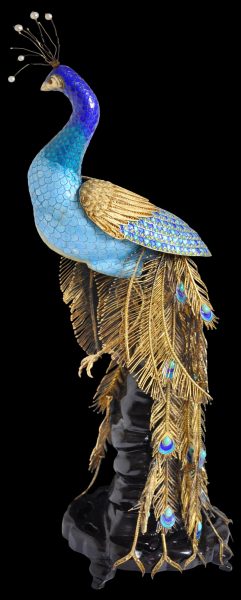 4667
Enquiry about object: 4667
Model of a Peacock, Gilded, Enamelled & set with Turquoise & Pearls
China circa 1920
height: 45cm, total weight: 863g
This rather extraordinary and well-observed model of a peacock is made from enamelled and gilded (gold-plated) silver and silver filigree. The tail feathers are also inset with large pear-shaped turquoise cabochons and the crest on the head is of pearls beaded onto fine silver wire springs.
The body of the peacock is decorated with light and dark blue, light green and cream enamel.
The peacock stands on a rocky outcrop which is of black lacquered carved wood. It grasps the rocky outcrop with one gilded silver foot, while the other reaches forward tentatively or perhaps nonchalantly in the way that peacocks do.
Such extraordinary follies were created in China in the 1920s largely for the export market. It is purely decorative.
The peacock is in very fine condition. There are minor and expected losses to the enamel, minor scuffing to the stand, and some minor uncoiling of the wire springs that comprise the crest on the head – all of which are lost of course in the overall profusion of the elaborate decoration. Overall, it is quite an extraordinary item and a superb conversation piece.
References
Williams, H. (ed.)., Enamels of the World 1700-2000: The Khalili Collections, The Khalili Family Trust, 2009.