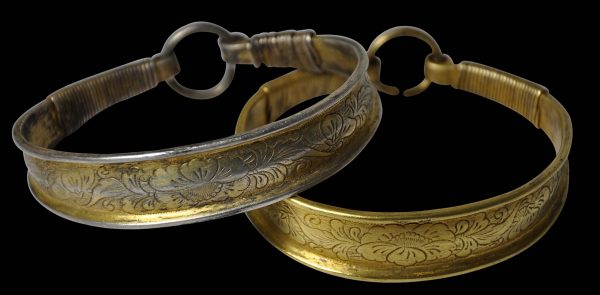 2496
Enquiry about object: 2496
Pair of Fine, Engraved Liao Gilded-Silver Bracelets
China Liao Dynasty, 10-12th century
diameter at widest point: 6.5cm, combined weight: 66g
Provenance
private collection, UK
Each of this beautiful pair of gilded silver bracelets is in 'C' shape with gently tapering ends that are sheafed in tightly wound gilded silver wire. The ends finish with a spiral end through which there is a loop.
The outer surfaces of the bracelets are finely engraved with repeated peony flower motifs against a ring punched background. (The decorative device of ring-punching to provide a background is a hallmark of Liao dynasty metalwork.)
The bracelets are in a fine, stable and wearable condition. Most of the gilding is intact.
References
Shen, H.N. (ed.), Gilded Splendor: Treasures of China's Liao Empire (907-1125), 5 Continents, 2006.