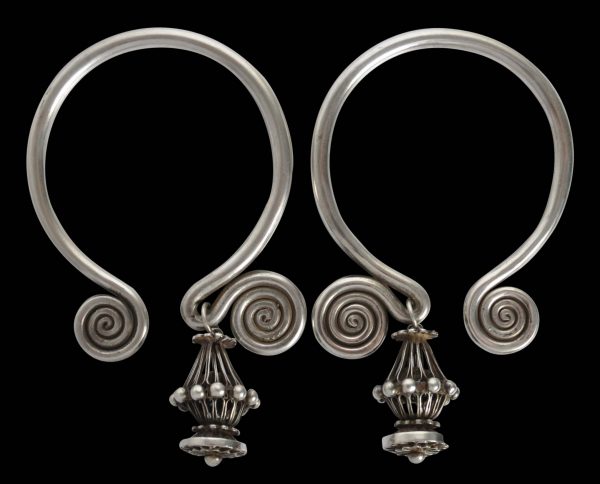 4559
Enquiry about object: 4559
Pair of Miao Silver Earrings
Miao People, Guizhou, China 19th-early 20th century
length: 12.8cm, width: 7.9cm, combined weight: 173g
Provenance
private collection, London
This very fine pair of silver ear ornaments is from the Miao people. Each comprises a large, thick silver hoop for the ear, both ends of which terminate in tight spirals, and with a cage-like structure with applied silver spheres being suspended from one of the finials.
See Beringen (2006, p. 80) and Hoek (2004, p. 204) for related pairs.
The Miao people live in southern China most notably in Guizhou province. But Miao sub-groups such as the Hmong live in northern Thailand and eastern Burma as well. The wearing of silver jewellery among Miao women was very important. It was a sign of femininity and wealth. Families would begin saving to buy silver jewellery from the time a daughter was born, so that she would enter a marriage with a significant collection of silver jewellery which would be her own source of wealth. Thereafter, copious amounts of silver jewellery would be worn at weddings, funerals and springtime celebrations.
The earrings here are in excellent condition. They are sculptural and have good signs of age. They are among the best of their type that we have seen.
References
Beringen, J., et al, The Art of Silver Jewellery: From the Minorities of China, the Golden Triangle, Mongolia and Tibet – The Rene van der Star Collection, Skira, 2006.
Hoek, C., et al, Ethnic Jewellery: From Africa, Asia and Pacific Islands, Pepin Press, 2004.