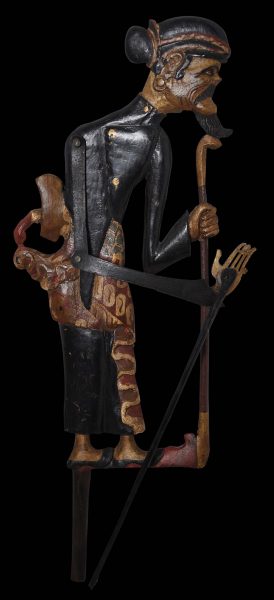 2161
Enquiry about object: 2161
Polychrome & Wood Javanese Wayang Klitik Puppet of an Arab Merchant
East Java, Indonesia circa 1900
height: 40cm
Provenance
UK art market.
This carved wooden wayang klitik (or wayang Karucil)puppet is decorated in polychrome and gilt and has a leather arm attached to the rest of the wooden body by means of a brass tack. The arm can be moved by means of a wooden rod.
The puppet appears to be of an Arab merchant – most probably a Hadrami merchant with ancestral roots in the Arabian peninsula. Such merchants were based in central Java and often were involved in the textile trade, running stalls and the like in central Java's pasar klewars (textile markets).
The figure wears a central Javanese cloth cap; a pleated, batik waist cloth; and colonial Dutch-style black jacket that is buttoned up. He has a dark beard and moustache, and carried a walking cane.
The figure most probably is from one of the Babad stories.
The age of this item is difficult to tell. The puppet probably dates to around 1900. It was acquired in the UK and most probably has been in the UK for many decades. Wayang klitik, like their all-leather counterparts wayang kulit, were used as shadow puppets. But being made of wood, they tended to be noisy during battle scenes as the puppets clashed and banged together. Hence, their name – 'klitik' – is onomotopaeic and is based on the 'klitik-klitik' sound they make as they are knocked together when being worked by the puppet master (dalang).
References
Angst, W., Wayang Indonesia: The Fantastic World of Indonesian Puppet Theatre, Verlag Stadler, 2007.