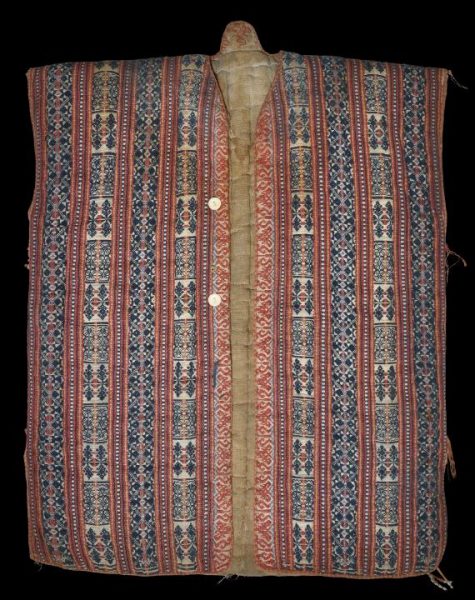 3739
Enquiry about object: 3739
Rare Tai Shan Quilted, Woven & Embroidered Jacket
Shan, Chin or Related People, Eastern Burma, Northern Thailand or Laos 19th century
length: 74cm, width: 56cm
Provenance
private collection, London; art market, Paris.
This highly unusual jacket is from the Shan or perhaps Tai or the Chin peoples of Burma, northern Thailand, Laos and North-Western Vietnam. No similar jacket has been published, to our knowledge.
It is heavily quilted or padded on all sides and is thick and heavy in the hand. It is decorated front and back with woven panels and woven panels that have been additionally embroidered with green, indigo and red thread.
The motifs are essentially geometric, although the opening at the front is edged with a fine band in red on cream with a stylised double naga motif, a motif that might be associated with the Shan but also perhaps with the old Lana courts of central and northern Thailand (see Conway, 2002). Related motifs on a Shan textile are illustrated in Conway (2006, p. 145) but also on a Tai textile from northern Laos of north-western Vietnam (McIntosh, 2012, p. 121).
The front retains two original buttons; a third is missing. There are also remnants of small tassels of beads, short, fine segments of bamboo, and what are probably Job's tears seed pods (Coix lacryma-jobi) suspended from the lower edge of the jacket.
The inside is lined with calico, which is likely to have been produced in, and exported from, India. Calico is a plain-woven textile made from unbleached cotton. It was first made in Calicut (now known as Kozhikode) in southwestern India, and was made by traditional weavers known as caliyans. Early Indian chintz was produced by printing designs, usually floral patterns, on calico.
The quilting suggests that the jacket was intended to be worn in a cooler, highland region. Some of the Shan regions and parts of Laos are indeed cooler and might necessitate the wearing of such a jacket. Conway (2006, p.44) reproduces an image that dates to around the late 19th century and which shows two Shan officials in Loi Long in the Shan States, dressed in large, over-sized indigo cotton jackets which appear to be quilted.
The jacket has a superb patina – it is s clearly old and a 19th century dating is entirely justified. There is only minor and expected fraying around some edges, no insect damage and no repairs. The colours are remain bright and there is little or no fading. Overall, it is an excellent piece and very unusual.
The final image shows Shan officials with their children. The two officials wear cotton jackets that appear to be heavily quilted.
References
Conway, S., Silken Threads Lacquer Thrones: Lan Na Court Textiles, River Books, 2002.
Conway, S., The Shan: Culture, Arts & Crafts, River Books, 2006.
Green, A., (ed.), Eclectic Collecting: Art from Burma in the Denison Museum, NUS Press, 2008.
McIntosh, L.S., Art of Southeast Asian Textiles: The Tilleke & Gibbons Collection, Serindia Publications, 2012.
Naenna, P., Costume and Culture: Vanishing Textiles of some of the Tai Groups in Laos PDR, Amarin Printing Group, 1990.