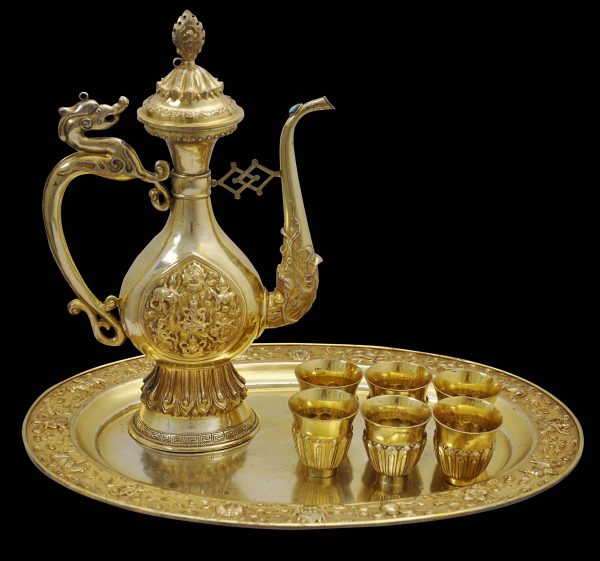 4054
Enquiry about object: 4054
Silver-Gilt Ritual Wine Ewer Cups & Tray
China or Mongolia late 19th century
height of ewer: 24cm, width of ewer: 15cm, length of tray: 30.2cm, width of tray: 21.5cm, height of cups, 4cm, diameter of cups: 3.7cm, weight: 1,027g
Provenance
UK art market.
This ritual wine or libation set is made of gilded (gold-plated) silver. It was made inn either Mongolia or China and most probably was intended for the Mongolian or Tibetan markets. Most likely it was intended for serving wine as part of a wedding ceremony. The gilding suggests that this was the intended use. It might also have been used to serve offerings.
It comprises an oval tray, six cups, and a tall ewer. The cups are heavy in the hand and have sides decorated with lotus petal motifs.
The tray has a plain centre and an elevated rim repoussed with Himalayan Buddhistic motifs.
The ewer has a flared foot decorated with lotus petal serrations in keeping with similar decoration on each cup. The body has a tear-shaped cartouche on each side of the body, in relief, which is decorated with more Himalayan Buddhistic motifs. The handle has been cast as a long-nosed, stylised dragon with a makara head, and the spout emerges from the mouth of a makara. The top of the spout is inlaid with a single turquoise cabochon in a box setting. The lid is domed with more lotus petal motifs and has a 'wish-fulfilling jewel vase' finial.
The underside of each cup is impressed with a Chinese mark for 'pure silver'.
The set is in fine condition. There is some age-related wear to the gilding here and there. There are no repairs.
References
Ghose, M. (ed.), Vanishing Beauty: Asian Jewelry and Ritual Objects from the Barbara and David Kipper Collection, Art Institute of Chicago, 2016.
Reynolds, V., Tibet: A Lost World: The Newark Museum Collection of Tibetan Art and Ethnology, The American Federation of Arts, 1978.