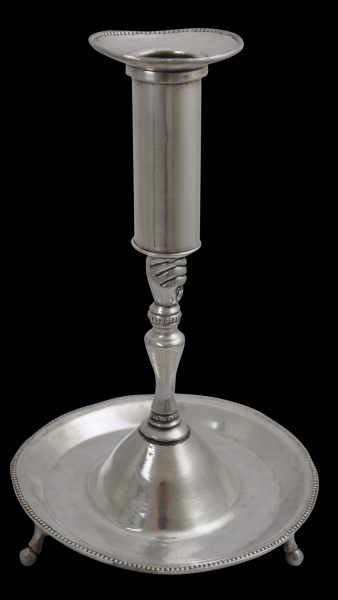 3859
Enquiry about object: 3859
Spanish Colonial Silver Candlestick
Spanish Colonial South America, probably Peru 17th-18th century
height: 24cm, diameter: 15.3cm, weight: 618g
Provenance
Acquired in the UK, from the estate collection of Dr George Yuille Caldwell (1924-2016). Dr Caldwell, an English-born physician spent much of his professional life practicing in Singapore. He amassed a large collection of Chinese jade, porcelain and ethnographica during that time.
This fine, tall 17th or 18th century candle holder is of solid, near-pure silver. It comprises a cylindrical holder with a wide rim and a baluster-form stem that is fixed to a concave saucer that has a central domed section. The stem includes a fist that appears to be holding the cylindrical holder section aloft. The fist has also been engraved with a leafy flourish emerging from it.
The edges of the rim and saucer are finished with fine beading.
The saucer is supported by three short 'V'-shaped legs ending in ball feet.
A single, closely related candlestick is illustrated in Luis Ribera & Schenone (1981, p. 201). That example is attributed to 18th century Peru. It has similar proportions and weight to the example here, and might well be by the same maker.
The candlestick here is in fine condition. There are no losses or repairs. The saucer and rim have become mis-shapen through use and time. This would be easily remedied but we have elected to leave the candlestick as it is – the mis-shaping adds character. (Interestingly, the example in Luis Ribera & Schenone shows similar mis-shaping.)
The silver used has a wonderful 'rawness' in keeping with much 17th and 18th century silver from South America.
Latin America/Latin American
References
Luis Ribera, A., & H.H. Schenone, Plateria Sudamericana de los Siglos XVII-XX, Hirmer Verlag Muchen, 1981.