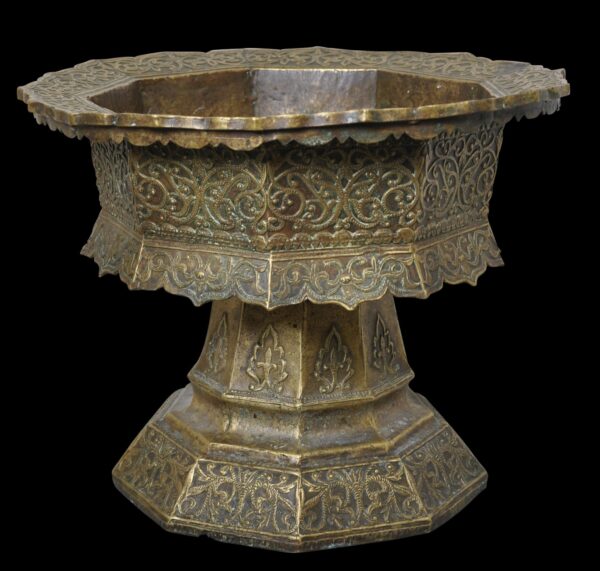 8949
Enquiry about object: 8949
Sumatran Large, Cast Brass Betel Pedestal Bowl (Tcharanos)
Minangkabau People, Sumatra, Indonesia 19th century
height: 23.1cm, width: 29.4cm, weight: 2,775g
Provenance
private collection, UK
This large and particularly beautiful footed pedestal bowl was cast to hold the accoutrements of a betel or sirih set. Cast using the lost-wax process, it is the product of Minangkabau brass-workers in West Sumatra. From West Sumatra, such brass items seem to have been exported to the rest of the Southeast Asian Islamic/Malay world, including to north Sumatra and to the Malay peninsula where, possibly the local emigres Minangkabau who were concentrated in what was then the Negri Sembilan sultanate, facilitated this trade.
The foot and bowl are wonderfully decorated with fine, fern-like vegetal scrollwork, very much in keeping with the Minangkabau and Malay Islamic-influenced aesthetic.
The item is in fine condition, and has a pleasing subdued, golden colour.
An almost identical stand is in Singapore's National Museum collection, and is illustrated in Sheares (1987, p. 75).
There are no holes or cracks but perhaps a small casting fault to one tip of the rim. This is among the finest examples of Malay/Minangkabau brassware that we have seen.
References
Sheares, C., 'The Southeast Asian Gallery', Arts of Asia, May-June 1987.
Singh, B., Malay Brassware, National Museum of Singapore, 1985.