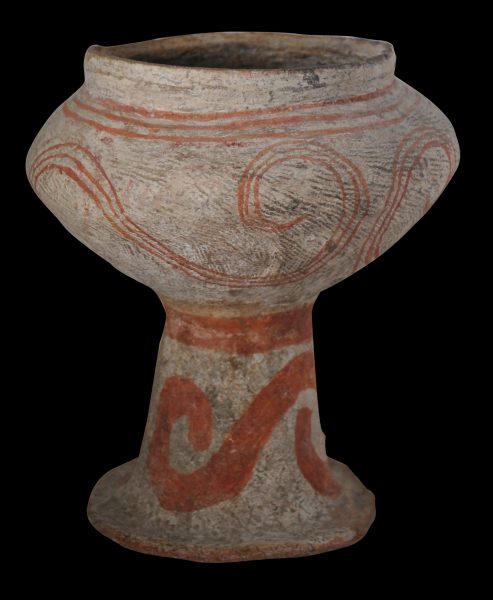 3893
Enquiry about object: 3893
Thai Pottery Pedestal Vase decorated with White Slipware & Red-ochre (Ban Chiang)
Ban Chiang, Udon Thani Province, Thailand circa 300BC
height: 18cm, diameter: 15.5cm, weight: 715g
Provenance
Acquired in the UK, from the estate collection of Dr George Yuille Caldwell (1924-2016). Dr Caldwell, an English-born physician moved to Singapore in the 1950s, from where he built up a collection of Southeast Asian collectibles.
This style of pottery is known as Ban Chiang, named after a village in northeastern Thailand where a pre-historic civilisation developed from about 2000BC onwards. Modern awareness of the civilisation only emerged from the late 1960s with the discovery in the area of pottery shards and the like. This led to excavations from 1967 and the discovery of thousands of pottery and bronze items.
The pedestal vase here dates from the Late Ban Chiang period and is of terracotta decorated with simple swirling motifs in white slipware and red ochre. It is similar to many examples now in the National Museum, Bangkok.
It comprises a flattened, spherical bowl with a mouth ringed by a built-up lip. The hollow stem base widens down to a flared foot.
The example here seems to have had some repairs. It is likely that the base and the bowl have been reattached and part of the rim of the foot has been restored.

Two related examples on display in the National Museum, Bangkok.
(Photographed in January 2017.)
References
Brown, R., Southeast Asian Ceramics Museum, Bangkok University, Bangkok University Press, 2009.
National Museum Volunteers Bangkok, Inspirations: A Guide to our Forty Favourite Pieces, NMV Bangkok, 2009.
Thammapreechakorn, P., S. Lertrit & K. Pinsri, Ceramic Art in Thailand, Osotspa Co., 1996. :