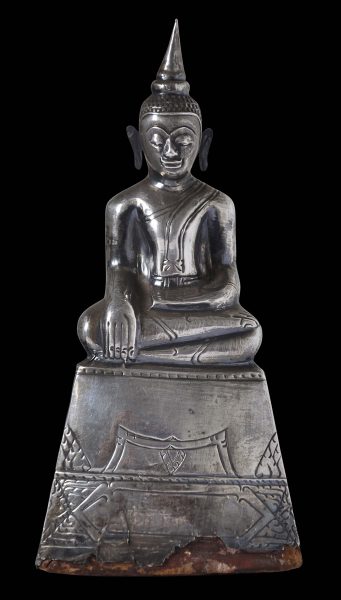 2968
Enquiry about object: 2968
Thai Silver Votive Buddha
Thailand 19th century
height: 17cm
This image of the Buddha seated in the 'calling the earth to witness' position (Bhumisparshamudra) comprises a terracotta (or similar) base over which sheet silver has been hammered and chased.
Such images were commissioned by worshippers and given to monasteries and significant Thai temples (wats) as acts of merit.
The example here is in the usual condition that older examples typically are found – with minor dents, losses to the silver sheet towards the base and so on – but these tend to add to such images' naive charm.
References
Naengnoi Punjabhan, Silverware in Thailand, Rerngrom Publishing, 1991.