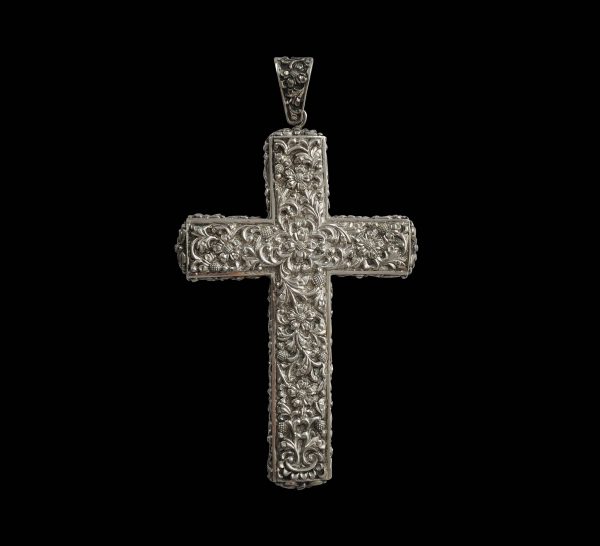 4577
Enquiry about object: 4577
Unusually Large Chased Silver Christian Cross
Sri Lanka 19th-early 20th century
height: 11.8cm, width: 6.6cm, weight: 39g
– scroll down to see further images –
This hollow silver cross is chased on the front and each side with scrolling floral and foliage motifs that are typical of nineteenth century Kandyan silverwork. The reverse is of plain sheet silver. The cross is surmounted by a movable chased silver loop to allow it to be suspended by a chain. Probably the cross was made to be worn but it might also have been made to adorn a statue perhaps in one of Sri Lanka's colonial Christian churches. As such it is a fascinating cross-cultural relic from Sri Lanka's interaction with Portuguese, Dutch and British traders and colonisers.
Certainly, a crucifix executed in what is overtly Sri Lankan silverwork more commonly seen on betel boxes and other more obviously indigenous paraphernalia is unusual: this is only the second time we have encountered such an item.
The item is in excellent condition with no splits, dents of repairs. It is very wearable.
Christianity has a long history in Sri Lanka. A Portuguese fleet commanded by Lourenco de Almeida, having been driven by a storm to the shores of Sri Lanka, landed in Colombo in 1505. With permission of the king of Kotte, Dharma Parakramabahu IX, the King of Kotte, gave Alimeida permission to establish a trade station and a small chapel in Colombo. The chapel was dedicated to St Lawrence. Franciscan Friar Vicente, the chaplain of the fleet, celebrated Mass. Over the next few centuries, Portuguese, Dutch, and Irish missionaries spread the religion in Sri Lanka, most notably in the western and north-western coast.
References
Coomaraswamy, A.K., Mediaeval Sinhalese Art, Pantheon Books, 1956 reprint of the 1908 edition.