Indian Hindu & Jain bronzes, along with bronzes of Himalayan Buddhist deities, and some related items, are shown here. Each has been selected for its aesthetic appeal, sound provenance, and obvious age & patina.
Each item is for sale.
Each piece has been sourced from within the UK, often from old, colonial-era collections.
We also have separate pages for other
Hindu & Parsi antiques
,
Mughal Indian antiques
,
Colonial Indian Silver
, and
Mughal Silver
. Additional Indian textiles that we have in stock are to be found in our
Textiles
section.
Do
sign-up
for our monthly catalogues so you can see new additions to our stock as they arrive.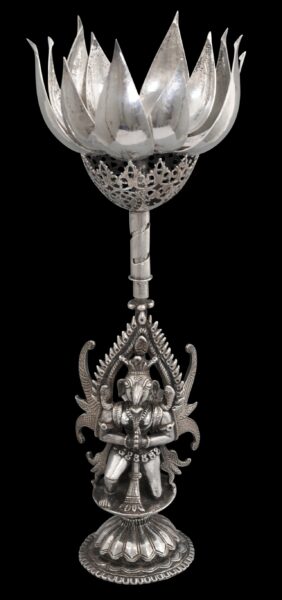 9371
Himachal Pradesh, Northern India 18th century
height: 40.5cm, diameter of the base: 8.7cm, weight: 1,672g
Sold