Discoveries 6: Our Best Balinese Find – Rawana Kidnapping Shinta
This is the sixth in a series of blog posts devoted to our favourite-ever items that we have discovered.
Discovering items that hitherto have been forgotten, to give them the right attribution, is an important task of a good gallery. Research is so important. Many of our discoveries find their way to museums to be be protected for future generations. This is one of the most gratifying aspects of what we do.
This carved wooden Image of Rawana Kidnapping Shinta & Escaping on the Winged Demon Wilmana, from northern Bali, probably Buleleng, and dating to the late 19th century is among our favourite Balinese discoveries. Standing 33.5cm high, it was found in regional England and had probably come to the UK in the early 20th century during the passenger steamship era. it is decorated in polychrome and has an inscription painted to the base, in Balinese. It is now in the National Gallery of Australia, and was exhibited during a recent exhibition on the arts of Bali.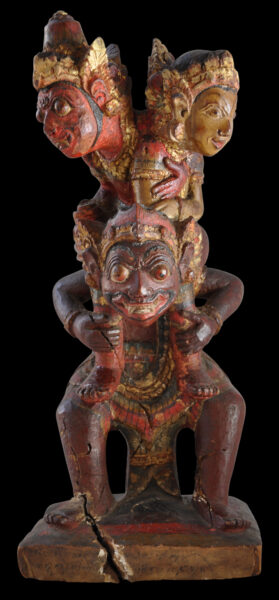 Our original description:
This carved statue is carved in a dynamic, very three-dimensional manner and with polychrome and gold highlights. It shows the demon king Rawana on his mount Wilmana. Rawana has his left arm around Shinta, whom he has kidnapped. It is the partner statue to
Item 2015, a carved statue of Vishnu astride Garuda.
The Asian Art Museum in San Francisco also has a carved wooden sculpture of Rawana on Wilmana (minus Shinta) and a sculpture of Vishnu on Garuda both of which are an obvious pair, and both of which are attributed to north Bali, 1850-1900. According to Reichle (2010, p. 241), it is rare to find old Balinese statues that are intricately carved, and rarer still to find a pair.
The example here, most likely from Buleleng, northern Bali, shows the demon Wilmana carry both Rawana and Shinta, Rama's wife, and is based on an incident in the Ramayana. In the Ramayana, Rama, the seventh incarnation Vishnu, descends to earth to protect it from Rawana. But Rawana kidnaps Rama's wife, Shinta, and Rama and his army headed by Hanuman, attempt to retrieve her.
Each figure is shown with a crown, traditional Balinese court wear, and jewellery. Rawana has a red face, Wilmana's face is red-brown, and that of Shinta has a more natural cream-brown hue.
The version of Wilmana here does not have the usual bird-like characteristics with which the demon usually is show. The wings, tail feathers and beak-like nose are not depicted. But his ferocity is, by means of fanged teeth and bulging eyes.
The front edge of the base is inscribed in black ink or paint with two lines of Balinese script.
Nineteenth century Dutch accounts noted the display of images of Rawana and Wilmana on Bali. One such image was even presented to a prince of Goa (Reichle, 2010, p. 243).
What were such images used for in the nineteenth century? Their precise function is not known. Most wooden statues were used as architectural elements but that is not the case with this example, which is too fine, and clearly was designed as a stand-alone piece. Reichle (2010, p. 241) comments that such images were likely designed as decorative items to adorn royal palaces.
The image is detailed and well carved. It has a fine patina; its significant age is obvious. The patina is not the result of weathering but more the simple passage of time. In any event, this and its partner statue, were sourced from the UK and both appear to have been in the UK for many years. There is some age-related cracking to the base. The item however is in a robust, stable condition.
The item was acquired in the UK and most probably was part of an old collection. It appears to have been in the UK for many decades.
References:
Ramseyer, U., The Art and Culture of Bali, Oxford University Press, 1977.
Reichle, N. (ed.), Bali: Art, Ritual & Performance, Asian Art Museum, 2010.
See the Indonesian & Malay World items we currently have in stock.
Receive our monthly catalogues of new items by email.
See our entire Catalogue.
Listen to our Podcasts on collecting and other matters.